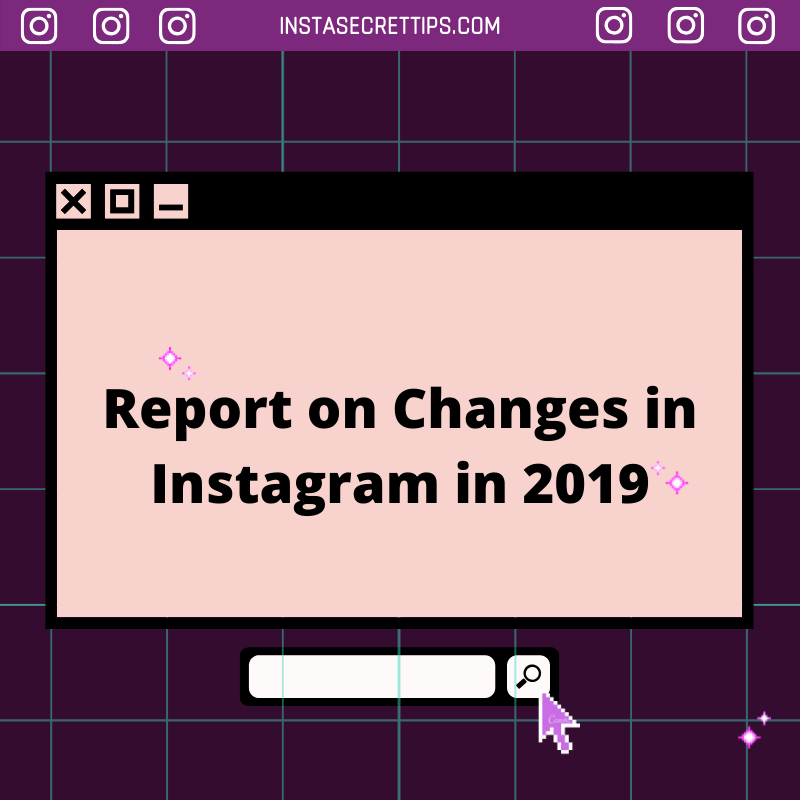 The year is about to end now.
And…
With all things wrapping up to start something new, Instagram is all set to make its platform a more reliable and secure space for users like us so they can freely share their precious moments.
The geared up Instagram platform wants to create a comforting space for normal users as well than just those glamorous high-end lifestyle influencers and models that were in majority back in 2013.
It's been almost a decade now!
And the Instagram platform has made zillions of changes in terms of functionality as well as aesthetics to make its place a better spot to spend time on.
The Instagram team takes account of every single aspect that could possibly discomfort its people capital so as to bring out more attributes on the table and ease the situations.
Now, of course, you can't blame Instagram for your friend Bhavna who left the platform (maybe she just needed a break!).
But all I can say after seeing their continuous efforts is that- Instagram truly cares for its users!
It surely does.
And it is, for this reason, I thought why not write up a post about the changes that the platform brought out this year, and create a detailed 'Report on Changes in Instagram in 2019'.
Excited?
I am sure you are.
Rolled out in 2010, the Instagram app would complete its 10th birthday in October this year in 2020.
But before that… let's see all the alterations that appeared in 2019.
Here we go-
Report on Changes in Instagram in 2019
1- CHECKOUT ON INSTAGRAM!
So initially when a user wanted to shop from brands they love on the platform, they were led to the brand's website where they completed their due checkout process.
But not anymore!
Recently in March this year (2019), Instagram brought out 'Checkout in Instagram' feature that enabled users on Instagram to checkout without leaving the Instagram app.
Following the release, when a user clicks on the brand's post to view the product, they would notice a 'Checkout on Instagram' button on the respective Instagram page.
The option requires users to fill in their credentials (such as email, address, phone number, etc.) only for the very first time when they checkout.
The information would be securely saved on Instagram servers for future checkouts.
And as per your purchases are concerned, Instagram users would receive on time notifications about shipment and delivery right inside their Instagram app, so they can keep track of their product purchase.
Interesting!
Right?
LEARN MORE- SHOP ON INSTAGRAM WITH INSTAGRAM CHECKOUT (LINK!!!)
2- INSTAGRAM'S NEW DONATION STICKER!
Instagram stories have beaten out every single feature that Instagram ever rolled out.
Although notorious as a copied feature from its competition app Snapchat, the reach and effectiveness of Instagram stories can't be ignored.
And it is for the fact that more than 500 million users on Instagram use this awesome feature every single day.
Rolled out in April this year (2019), the Instagram donation sticker made it possible for Instagram users to raise funds for NGOs directly via their Instagram stories.
In order to use this feature, users only need to click a picture (or select from the gallery) and select the 'donation' sticker from the available options. After this, select the NGO that you want to support and customize your fundraiser.
Users can view the amount of money that they raised by swiping up and viewing their Instagram story.
Moreover, the money that you raised from the fundraiser feature would be directly sent to NGO.
READ MORE- HOW TO USE DONATION STICKER? (LINK!!!)
3- CONTROL OVER THIRD-PARTY APPS!
With so many privacy scandals airing in news feeds day in and out, Instagram's initiative to hinder third-party applications from accessing your Instagram data was quite applaudable.
Recently in October, Instagram rolled out this in-app feature that enabled Instagram users to control such third-party apps from accessing their account.
The thing that caught everyone's eyes was the flexibility it came up with.
The feature lets users decide whether or not they would authorize a certain third-party app to access their Instagram account.
Additionally, it let them choose the level of authorization that they want to provide to certain apps.
READ MORE- MANAGE THIRD-PARTY APPS WITH INSTAGRAM'S NEW SECURITY FEATURE (LINK!!!)
4- INSTAGRAM'S NEW EXPLORE PAGE!!!
Used by more than 50% of Instagram accounts, the Instagram 'Explore' page got a brand new appearance in mid-2019.
Instagram's Explore section was brought with the intention to surface a variety of awesome content that is posted on the Instagram platform. It additionally caters to the needs and interests of people who dig a particular niche by surfacing related posts and videos.
The new layout had 'IGTV' followed by 'Shop' and other niches such as 'Food', 'Art', 'Travel' etc.
In addition to this change in layout, the new aesthetic enabled users to experience much more immersive IGTV and shopping experiences in their Explore section.
Moreover, when a user taps on "IGTV," they noticed an updated home for IGTV.
The updated IGTV home enabled users to browse a personalized feed of recommended videos from creators they follow on the platform or would like to follow.
The updated 'Shop' option provided users with category filters in their navigation bar. The category filters made it possible for users to browse specific types of products on the platform, such as Clothing, Beauty, Home Decor, etc.
READ MORE- EXPLORE PAGE MESSED UP! (LINK!!!)
5- AGE RESTRICTION WHILE SIGN-UP!
Instagram announced recently in December that it would now on ask new users their age when they sign up.
The company said that it is bringing about these changes so as to prevent users from joining the platform who are underage (less than 13); hence, keeping the young users safer on the platform and ensuring an age-appropriate experience.
Additionally, if a user has connected his Facebook account to his Instagram one, it would add the date of birth that the user mentioned on Facebook on its own.
The birth date won't be visible to any other user on the platform, although the user himself can see the info in their private account info section.
It was pretty much the most needed feature since there is a continuous increase in the number of underage users on the platform.
READ MORE- INSTAGRAM BRINGS NEW UPDATES FOR YOUNGER USERS IN ITS COMMUNITY (LINK!!!)
6- INSTAGRAM'S NEW FEATURE 'SHOUTOUTS'
Shoutouts were initially a part of Instagram posts and stories by simply mentioning other user's usernames.
But not anymore!
Instagram just recently rolled out a brand new feature named "Shoutout" that specifically serves the purpose of giving someone a shoutout.
There are currently four sorts of Shoutout options available on the tray- 'Happy Birthday', 'Happy Anniversary', 'Thanks', and '@' (which users can use for business shoutouts).
After you input the user's username you are giving a shoutout to, Instagram presents you with all the posts and stories where you tagged that person. Users can tap on '+' to select the stories and posts that they want to upload to the stories.
Interesting, right?
READ MORE- INSTAGRAM STORIES SHOUTOUT FEATURE OUT NOW (LINK!!!)
7- IGTV SUPPORT FOR LANDSCAPE VIEW!
The user's feedback has brought about many changes in the Instagram app. Instagram always seeks for what their users want and what could be done better.
Having said that, Instagram's IGTV is no different!
2019 has seen one of the biggest changes in the IGTV feature as well.
From enabling creators to publish previews of IGTV videos to their Instagram feed to Instagram's latest support for landscape view is what hiked up user's interest to turn up more towards this Instagram feature.
Even Instagram itself quoted on its blog- " We've seen viewers spending more time with IGTV and a surge of new original content from creators of all sizes."
Initially there were tons of creators who wanted to upload their video in landscape view, while on the other hand, there were some viewers who bumped into landscape videos and wanted to view them the natural way.
It is for this reason, Instagram finally decided to support landscape videos along with vertical ones.
Instagram said- "In many ways, opening IGTV to more than just vertical videos is similar to when we opened Instagram to more than just square photos in 2015. It enabled creativity to flourish and engagement to rise – and we believe the same will happen again with IGTV."
READ MORE- INSTAGRAM SUPPORT FOR LANDSCAPE VIEW (LINK!)
8- INSTAGRAM'S NEW CAMERA AND CREATE MODE!
Instagram is more than just flashy videos and plastered images.
Users sometimes want to share something that is going on their minds, or maybe just a word to their followers.
Fortunately, Instagram knows it all and has a strong eye for the demanded features.
Instagram's New Create Mode was just another option in their to-do list.
Instagram's Create Mode enabled users to share their words without any picture or video.
It additionally rolled out a new camera mode that enabled users to utilize a number of filters, effects, and stickers that Instagram has in its tray.
The 'Create' mode features many options such as 'Type', 'Shoutouts', 'Poll', 'Giphy' etc., which Instagram users can use accordingly.
I personally use it every single day, and I think it is one of the best rollouts the company has ever made.
By the way, how often do you use this feature?
9- INSTAGRAM'S NEW FEATURES TO FIGHT AGAINST BULLYING!
"We can do more to prevent bullying from happening on Instagram, and we can do more to empower the targets of bullying to stand up for themselves"- said Instagram's spokesperson during a conference.
And Instagram truly lived to that.
2019 has been a year of a number of initiatives by Instagram to give a strong fight and tackle this serious issue on its platform.
With mean comments and hatred airing all over, Instagram wants its users to take a stand and fight against such critical issues.
And it not only says it, the number of rollouts that the company made were something that proves its genuine care and concern to tackle and out beat these bullies on its platform.
Instagram rolled out its "Restrict Feature" that helps users facing bullying on the platform.
So once a user 'restricts' someone on the Instagram platform, their comments (good or bad) are going to be only visible to that person.
All other followers would not even see that the user ever commented.
However, a user can choose to make a restricted person's comments visible to others by approving their comments.
Additionally, "Restricted" users won't be able to see when you're active on Instagram or even when you've read their direct messages.
The company also utilizes AI functionality to spot any degrading words (such as dumb, stupid, etc.) that could be a part of a bullying scenario and send a caution – 'Are you sure you want to post this?'
Although a user can comment even after that by ignoring the warning, the pause lets some users rethink about their phrasing and alter it with some non-offensive ones.
Following the positive feedback from the users, this December, Instagram extended its Restrict feature a step ahead.
From now on, when a user uses any bad words in their caption, Instagram would send them a warning mentioning- 'Edit Caption', 'Learn More', 'Share Anyway'.
READ MORE- INSTAGRAM'S ANTI-BULLYING FEATURE RESTRICT OUT NOW! (LINK!!!)
10- CHANGES IN ACCOUNT DISABLE POLICY!
So initially Instagram used to disable accounts that acquire a certain percentage of violating content.
But not anymore!
According to Instagram's New Policy, Instagram would remove user accounts with a certain number of violations within a window of time in addition to removing accounts with a certain percentage of violating content.
So from now on, Instagram is going to send notifications to reveal users a record related to the posts, comments, plus stories that Instagram wiped out via their account, along with the actual reason why they were taken out.
Instagram would additionally alert users when their account is in danger of being deleted.
Furthermore, it would also send cautions to people whose accounts are at risk of being deleted for breaking too many of its guidelines.
That being said, Instagram clarified that it doesn't want to share the precise number of hits, or the timeframe for them, because it does not want bad actors to take advantage of it.
Fair enough!
By the way, did you ever face any issues regarding account disabling?
READ MORE- INSTAGRAM'S NEW ACCOUNT DISABLE POLICY (LINK!!!)
11- LABELING FALSE INFORMATION ON INSTAGRAM!
Spreading false news on the Instagram platform was a money source for a few, while on the other hand, it served someone's political agenda to develop hate for particular someone.
Misinformation was a poison to the online world, be it Instagram or just normal users.
Hence, to tackle such issues that have been one of the prior issues for the Instagram platform, the company rolled out its Third-Party Fact-Checking program (3PFC) that has been mostly a part of Facebook to tackle the same issue.
These fact-checkers would label the post as 'False Information' when they come across any such post that is posted with ill intentions just spread hate and make short money.
Following a post gets labeled by these fact-checker users would find a pop-up with the notification saying- "Independent fact-checkers say this post includes false information your post would incorporate a notice it is false, are you sure you want to share?"
Instagram users can additionally click on 'see post,' and 'see why' to determine the possible reasons of why the post was labeled as so.
According to a report by Facebook- "When fact-checkers rate an article as false, we show it lower in News Feed — reducing future views by over 80% on average."
Although the feature was just a part of users based in the U.S., Instagram has now decided to roll it globally.
READ MORE- INSTAGRAM POWERS ITS USERS REPORT FALSE INFORMATION (LINK!!!)
12- INTRODUCING THREADS!
With the hope of bringing users closer to whom they care about, Instagram launched a standalone app named Threads.
Threads was brought out with the intention to let users create their own private, dedicated space where users could share photos, videos, stories and messages with the people they are closed with.
Instagram users are in control of who can reach them on this private network. Moreover, they can additionally customize the experience around other Instagram users who matter most to them.
With Threads in hand, users can message those people that are on their Instagram close friends list. Furthermore, they'll have a dedicated inbox and notifications just for those personal conversations.
In case if a user didn't set up their close friends list, they could create one directly from Threads after they download the application.
The best part about this app was that it opens directly to the camera so you can share your picture or video with your closed ones in just two taps.
Users can even share their status from the build-in options such as 'Studying', 'At Home' etc., else they can turn on auto status which would update your closed ones about what you are up to on its own.
The messages from your close friend list would appear both in Threads as well as Instagram Direct. So users can rest assured that they would have full control over how and with which user they want to interact.
READ MORE- ALL ABOUT INSTAGRAM'S THREADS APP 101! (LINK!!!)
---
CONCLUSION
It's nearly been a decade now when Instagram started its journey.
And it keeps rolling out new features every single month so as to comfort its users and make them feel secure to share their precious moments.
I tried covering almost all the features that Instagram rolled out in 2019 in this 'Report on Changes in Instagram in 2019'.
However, if you think I missed any, make sure to let me know in the comments down below.
Please do share if you liked it!
P.S.- In case you liked the article and want to read more articles like this, make sure to subscribe to our newsletter so you never miss any update.
Till then?
See you next time!
And?
Bye-bye.