Rolled out on Facebook in October last year, Group story feature has now expanded its bandwagon on Instagram too.
Instagram has observed a spike in the use of direct messages on the platform.
It is for this reason it rolled out Threads in October this year.
Messaging Groups have become the main part of our daily life.
And it's a fact!
Whether the group is for some office event or just a family get together on Christmas, the extension of the 'Group Story' feature will cater to the needs of Instagram users.
Moreover, it would be an additional tool so as to maximize user interest.
The feature was spotted by a lifestyle blogger named 'Cuteek' on Twitter – "Instagram now lets you create Group Stories," she mentioned.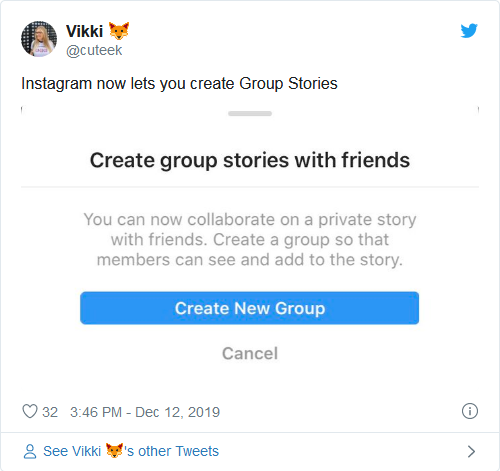 The news soon became viral after 'Matt Navarra' (a famous social media consultant and commentator) retweeted the same tweet on his Twitter handle.
Although the group story feature is similar to the 'close friends' list in terms of functionality, it is completely different in terms of flexibility it provides to users.
While users can only create a single list of their close friends, the 'Instagram's Group Story Feature' provides more usability.
Here is how-
The Functionality of 'Close Friends List'- If an Instagram user wants to share their personal story with a selective group of close friends, they can create a close friends list including those users and share exclusive content with them.
Now, in case they want to share the content with a different group of users, they would have to either create a new list by deleting the old one, or they would have edit the whole list and manually remove and add users.
The Functionality of 'Group Story' Feature- The group story feature will be limited to exclusive members that you have added to the group.
You can create a number of groups like this for office, birthday parties, conferences, etc and add your respective story accordingly.
It has a lot of flexibility as compared to the 'Close Friends' list feature as users can also chat with all other members of the groups and share exclusive stories where it fits (I mean, you would not want your friends to see your business related content.)
Moreover, the Instagram Group Story Feature cuts down the headache of creating a new 'Close friends' list to share an exclusive story.
The Downside Of Instagram's Group Story Feature
Although the functionality and flexibility are quite applaudable, the only downside that I observed in this feature was the limit.
Instagram Direct limits the groups to 32 people at the max.
Which could be an issue for groups (especially school and family groups where members are many).
While this was an issue for Instagram, parent company Facebook is always a step ahead.
Since Facebook does not limit the number of users that can be a part of the group, the usability of the 'Group Story' feature would be more probably a part of Facebook that Instagram as they have a larger mass.
Will Instagram Direct increase the limit?
Well…
We don't know!
Instagram may increase the number, or…
It might well not.
Although it is not clear whether it is rolled out globally (as I still don't see it on my Instagram app), users may expect it somewhere in early 2020 aligned with Instagram group chats.
Will Instagram be able to increase engagements via this rollout?
What do you think about this recent feature?
Let me in the comments down below about your views or any suggestions.
And please do share if you liked it!
P.S.- If you want to read more news like this, please subscribe to our newsletter down below.
Till then?
See you next time!
Bye-bye.