If I have to give you an option to make a photo college of the farewell party that you attended last weekend…
Which apps would you use?
Photo Collage Maker?
PicsArt?
Or…
Some other?
There are currently hundreds of app available in Play Store to make exciting photo collages.
And the number,… it keeps increasing.
Instagram has been always known as a photo-sharing platform.
If you conduct a poll and ask social media users which app would they prefer to share their travel moments (or any other), I can vouch for those users that 7 out of 10 people would say 'Instagram'.
Or maybe even more!
The Instagram app with more than 1+ billion user has turned up as a platform for common people to showcase their best and grab social attention.
And when it comes to photo sharing, there are certain occasions where users prefer photo collage rather than a normal picture such as birthday wishes, marriage anniversary, explaination process, or to show different angles of a product (in case if you are brand).
Instagram always has a eye for what their user wants.
And it is for this reason the company is running a yet another testing feature they named as 'Poses'.
Instagram testing Poses?
But…
What exactly is Instagram 'Poses'?
Instagram 'Poses' is a new story camera mode, that would take 4 pictures from Instagram camera and stitch them together into a stop-motion story from those taken pictures.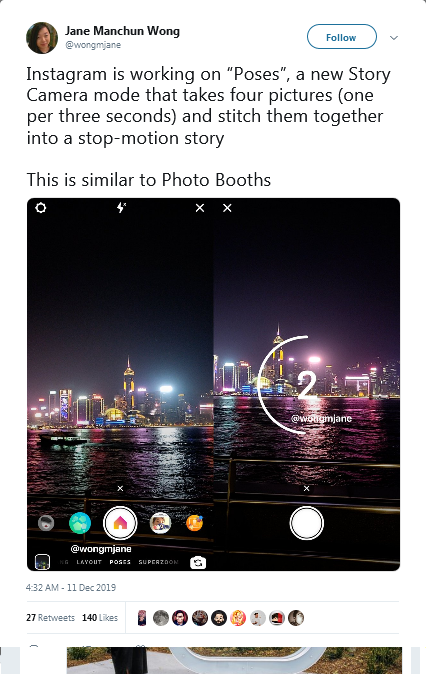 The feature was first discovered by Jane Manchung Wong, a reverse engineer from Hong-Kong who finds unreleased features and security vulnerabilities from apps like Twitter, Facebook, Instagram etc.
Poses could turn out as an innovative approach for Instagram Businesses all around to create more meaningful and exciting stories, and increase their engagement rates.
Moreover, it could also turn out as a go to feature for those brands who have to show steps of a process in a single picture (just for example like how the color of dish changes during making process).
The feature would also be seen being used by fashion companies and product sellers who have to showcase their item from different degrees in a quick succession.
And these all above are just to name a few, there are many.
Instagram businesses would only need to be innovative to fit in their showcasing process and generate leads out of their efforts.
Excited???
So am I.
Although Instagram did not make any official announcements about the release yet, users can bind their hopes somewhere in the early 2020 if it received some positive responses.
Let me know in the comments down below about your views and suggestions.
And please do share if you liked it!
P.S.- If you want to read more posts like this, please make sure to subscribe to our newsletter to never miss any update.
Till then?
See you next time!
Bye-bye.