Instagram is always concerned about users privacy and comfort.
And it is for this reason, the app keeps on testing new features so as to get user input and act according to what works out.
Replicating the trending features of other is what it has been always notorious about.
I mean…it has a huge user base of 1+ billion, which makes it easy for its features to go viral even if they are copied from other apps (TikTok, Snapchat etc.).
While some features are took back as a result of low response and negative feedback, today I decided to write these three features that are in the testing phase and could potentially roll out in 2020.
All three features were spotted by a reverse engineer, Jane Manchun Wong, a Hong-Kong based lady who passionately searched for unreleased features of the app such as Instagram, Facebook, Twitter etc.
So without any further ado, let get started-
3 Instagram Testing Features that could Rollout in 2020
1- Instagram's New IGTV Feed and Explore!
So during the testing phase of this feature, Jane noticed that it would get users endless content on their IGTV feed when they scroll vertically.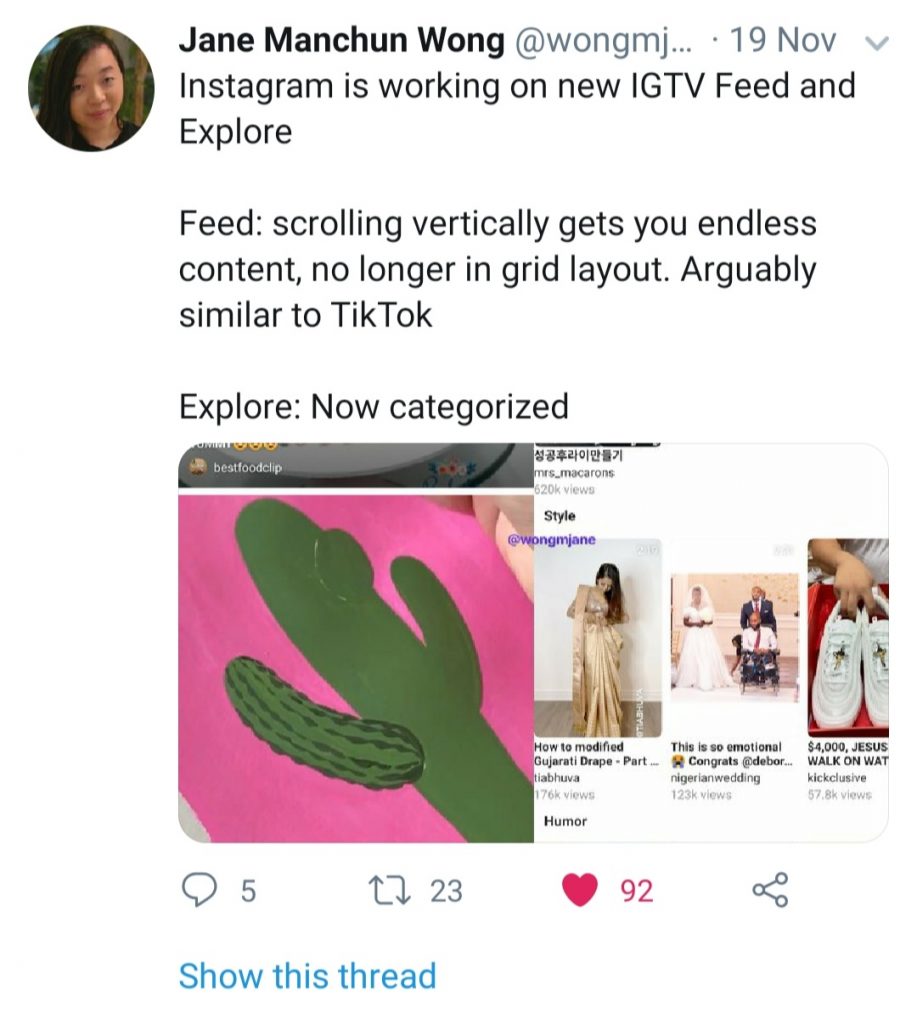 Also, the feed was not like usual grid layout that Instagram users currently have right now. The feature rather resembled to the competition app TikTok.
And the irony is that TikTok was even testing grid feed layout back in July that resembled to Instagram's Explore feed (see the picture below).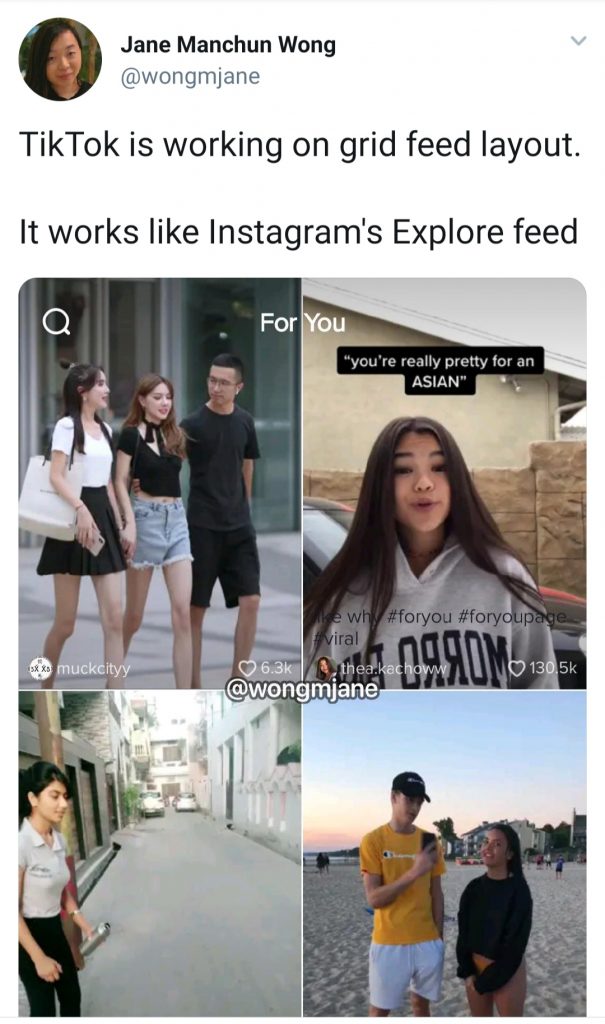 In addition to the new feed, Jane also spotted that IGTV Explore was now sectioned into different categories such as 'humor', 'style' and so on.
Although Instagram didn't make any official announcements yet when it would roll out, but if Instagram received some positive responses (which it is), Instagram should roll it out in the early 2020.
2- On-device Albums in Instagram App!
Even Matt Navarra (a reputed social media commentator and consultant) re-twitted this Jane's finding just a week ago.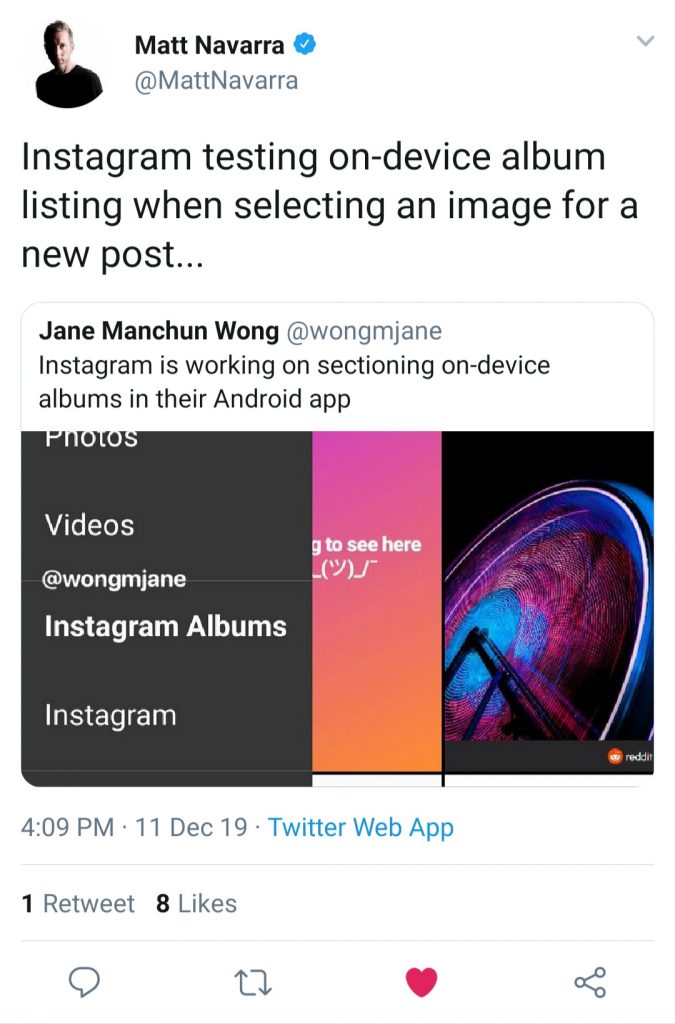 Instagram has been working on-device albums in their android app when a user selects a new post.
And the strange thing is, a user on Twitter said that he already noticed this feature on his Instagram app, which means that Instagram has been already testing this on a small number of users.
It is now Instagram to decide whether they would release it soon or run extra testing phases.
What do you think about this feature though?
3- Sharing Instagram Feed Post on Line App
Instagram was recently testing to share Instagram's feed post to a third-party app called Line.
Initially there were options to share Instagram post on Twitter, WhatsApp, Gmail etc. using 'Share to' option, but not on Line.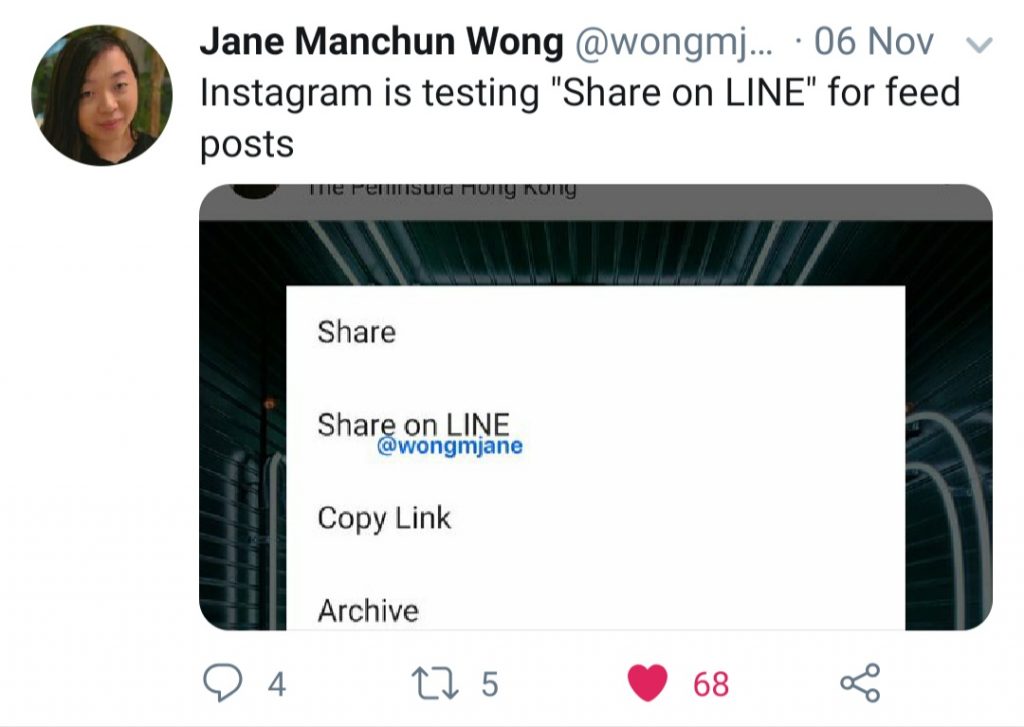 For sharing to such third-party apps, users needed to copy the link to the clipboard and paste it manually on the respective app where they want to share the post.
So let's say this feature rolls out, it would enable Instagram users to share feed post link directly on the Line app.
Although this feature doesn't add much as not many people use the 'Line'; moreover they could have just copy-pasted the link to share it. So I would say, it was not a must-needed feature.
But it's Instagram after all, there are chances that they might roll it out.
By the way, which of these 'Instagram Testing Features' you would like to see on your Instagram app?
Let me know in the comments down below about your views.
And do share if you liked this article!
P.S.- Please do subscribe to our newsletter if you want read more posts like this.
Till then?
See you next time!
And?
Bye-bye!