Instagram has now decided to roll out its third-party fact-checking program globally.
The company wants its users to trust what they view on the platform.
Unfortunately, it has rather turned out as a platform for many notorious people to run their hateful agenda either in the name of religion, or to develop hate for an organization.
Moreover, due to the ease of use and accessibility of Photoshop apps, the numbers of fake photos and videos are continuously scaling and have been airing all over the platform.
Instagram has been always concerned about these issues and it is for this reason it rolled out fact-checking program back in May in the United States.
The rollout was first just for the US users for the fact Instagram wanted to gauge what could potentially be the reason and see if 'Fact-checking' program would even work out.
It started working with third-party checkers who reviewed and analyzed the content, and labeled false information that was airing on the platform.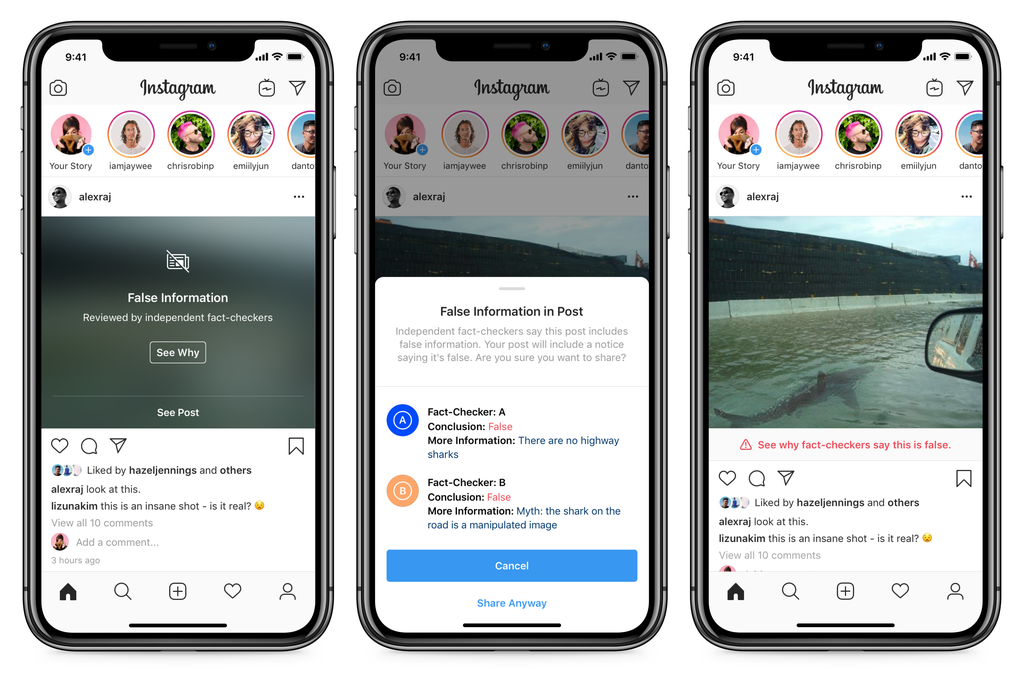 The main purpose of these fact-checkers was to independently assess false information and stop the distribution by removing such posts from the Explore feeds.
Instagram mentioned-
"Today, we're expanding our fact-checking program globally to allow fact-checking organizations around the world to assess and rate misinformation on our platform."
How Instagram Fact-Checking Program Works?
So when a third-party fact-checker rates a photo or video as 'false or partly false', Instagram would cut down on the reach of such content by removing it from other user's Explore and Hashtag pages.
This means when a user searches for a hashtag that you have used on your post and if your post has been labeled as false by fact-checkers, those users would not find your post there.
Moreover, in case if anyone comes across your post by chance, they would see the label 'False Information' so they can decide for themselves whether to trust your post or not.
Following a fact-checker labels a post as 'False Information', users would notice the label everywhere on the platform whether they see it in their feed, stories or DMs.
Instagram mentioned that it would additionally utilize image matching technology in order to spot other instances of such (labeled) posts and videos and label them to stop the further spreading of any False Information.
Additionally, let's say that a fact-checker labeled a post as 'False Information' on Facebook, Instagram would label such posts as false automatically on its platform too.
Instagram would also add links to articles from various trustworthy sources that would show why a post is rated so.
Here's what Instagram mentioned about the process of execution-
"To determine which content should be sent to fact-checkers for review, we use a combination of feedback from our community and technology. Earlier this year, we (Instagram) added a "False Information" feedback option, and these reports, along with other signals, help us to better identify and take action on potentially false information."
The feature was indeed needed to spot such fake news and keep away people from those who want to run their notorious agenda.
But the only doubt that exists in my mind is if fact-checkers would be able to gauge the reality that a post claims that is outside their country range.
Although they can use Google to find articles that explain the situations of a country, the fact that not many people know about the exact reality and internal affairs can't be ignored.
What do you say?
Should Instagram appoint these fact-checkers in all countries and get posts labeled who is a native?
Let me know in the comments section below about your views and suggestions.
And please do share if you liked it!
P.S.- If you want to read more posts like this, please subscribe to our newsletter.
Till then?
See you next time!
Bye-bye.