Although Instagram has been scaling up its features and functionality every single day to improve its social platform, messaging apps like Messenger (with 1.3 billion users) and Whatsapp (with 2.0 billion users) always had an upper hand over Instagram DMs right from the get-go.
User Statistics of WhatsApp and Messenger- via Messenger People!
---

---
According to a stat via Business Insider, almost 25% of Instagram users use Instagram direct every single day.
With more than a billion users on its platform globally, the stats confirm the vacuum that the company needs to fill in order to even the number of users on other messaging platforms.
And it has been improving every single day!
Fact!!!
Instagram Direct is getting tremendously better with time.
From its oldest unique feature of unsending sent messages to the newly rolled out muting mentions, video calls, etc. Instagram has always brought new attributes so as to shift users from other messaging platforms to Instagram Direct.
That being said…
The company just NOW rolled a new section of "SHARED MEDIA" that shows the list of all media shared inside a chat.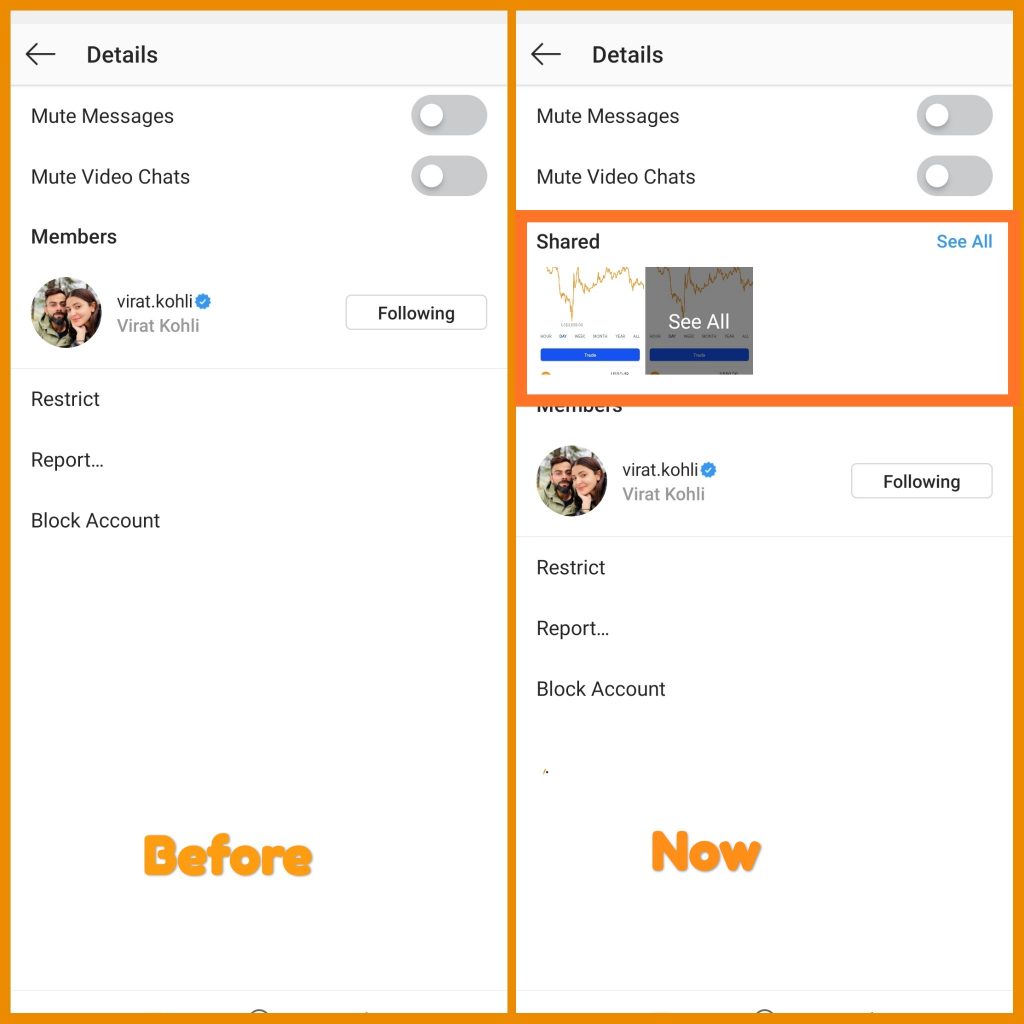 Instagram users can find this newly added attribute by clicking on "i" on the top right corner of their Instagram chat (see the image below!).
Users would then further have to select 'See All' to view all the media files that you and the other person shared inside that chat.
The feature is available in the latest version of the app so if you don't find it in your chat section, just go update your Instagram app and you will spot it following then.
From now on…
Users won't need to scroll up over and again to find a media that they sent three months ago (or even a year ago).
They can easily switch to this section and view all the media files that were sent or received inside the chats.
Interesting, right?
By the way, did you notice this feature yet?
What else functionality do you expect inside Instagram Direct?
Let me know in the comments down below about your views and suggestions, or just anything.
And please do share if you liked it!
P.S.- If you want to read more posts like this, subscribe to our newsletter so you never miss any update.
Till then?
See you next time!
Bye-bye.
Read More- 17 Actionable Tips to Get on Explore Page!!!