It was just the same day of the previous month (July 2nd) when one of my friends told me about this extension that he praised to the sky.
And I don't know why…
But when someone claims something beyond the level, it knocks my ego to test it.
I had to write about it.
I just had to, my friend.
As soon as he left my home, I instantly wrote the heading of this article and was quite sure I would mention it if was even 50% of what he claimed.
Saved the file with the heading.
Then right away went to chrome and downloaded the extension.
The thing that happened next was something that I didn't face earlier!
Do you know what it was?
Heartbreak!
It was not because I was proved wrong, neither it was because my ego was hurt.
But I seriously felt bad because I underestimated its functionality based on my past experiences where extensions like such were merely a scam.
By the way, let me make things clear before you make any false assumptions about me.
Like you and all other users, I also used to trust these when I started on the platform.
But as soon as I spent more time, hardly two to three of them worked fine as they claimed on the scale of hundred if I have to mention.
Now that doesn't mean that everything I downloaded was a waste, but most of them were merely a scam.
While a few of them secretly used the user's account to follow other accounts, many who claimed 'free forever' asked for money just after using them for a couple of hours.
So that all made me quite skeptical of these extensions and the claims they make.
LikeBoost isn't like this for sure!
The extension becomes a must if you are one of those users who wants free likes on their Instagram posts.
And the best part, the extension is free and doesn't require you to do anything.
Yeah, it is indeed FREE!
I can assure you of this for sure:)
Confused about how the extension functions?
Here's how-
After you download the extension on your PC, the extension activates on its own and works in the background.
Users only need to keep their browser opened and the extension gives them 5 free credits every hour where 1 credit is equal to 1 like on the platform.
Now that doesn't mean it's that simple.
The extension has an option named 'LIKING' which you can see in the picture below. And when this option is turned on, LikeBoost operates in the background and likes other user's posts on your behalf.
And for every like that it does in the background, you receive a free credit.
So basically, the number of credits that you receive is the number of likes the extension did in the background on various posts.
Now if that concerns you, let me tell you there is no such serious issue.
The problem would have existed if the likes were done frequently and in high numbers, but when you would use this extension, you would see, the intensity of likes is even below medium.
That means, there is nothing to worry about the number of likes that it performs in the background.
However, if you turn off the 'LIKING' option, the extension doesn't like any post in the background and you don't receive any credit for that.
I have personally used it (JUST FOR TESTING PURPOSE) on one of my testing accounts, and it indeed works as said.
How to Install and Use the LikeBoost Extension?
1- Open your chrome store, and type LikeBoost in the search bar.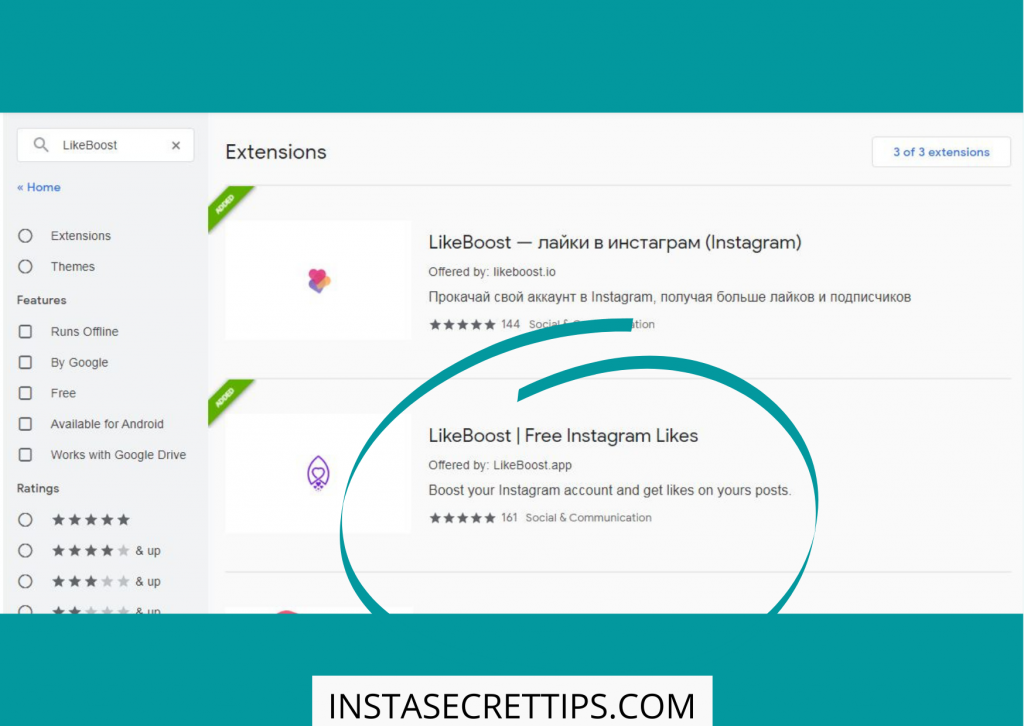 2- Then find the one that we marked in the picture above (although it's currently at second, the position could change with the search trend).
3- You would see the 'Liking' option already turned on; however, turn it on if it's not!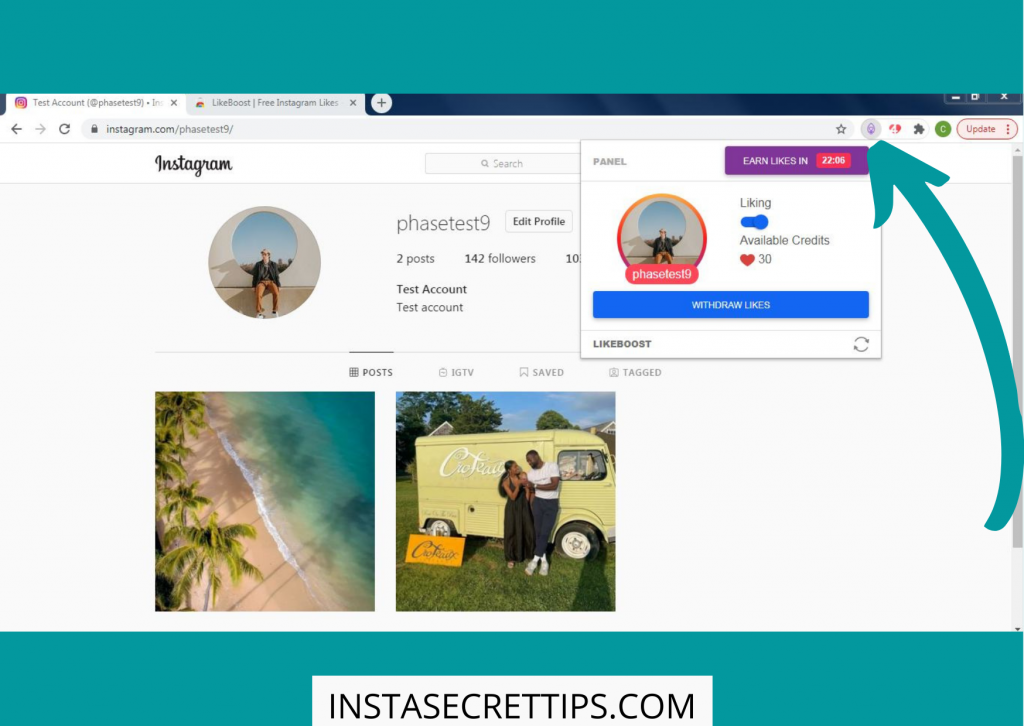 4- After you have some credit in your account, click on the 'Withdraw Likes' option, and select the post where you want to receive the likes.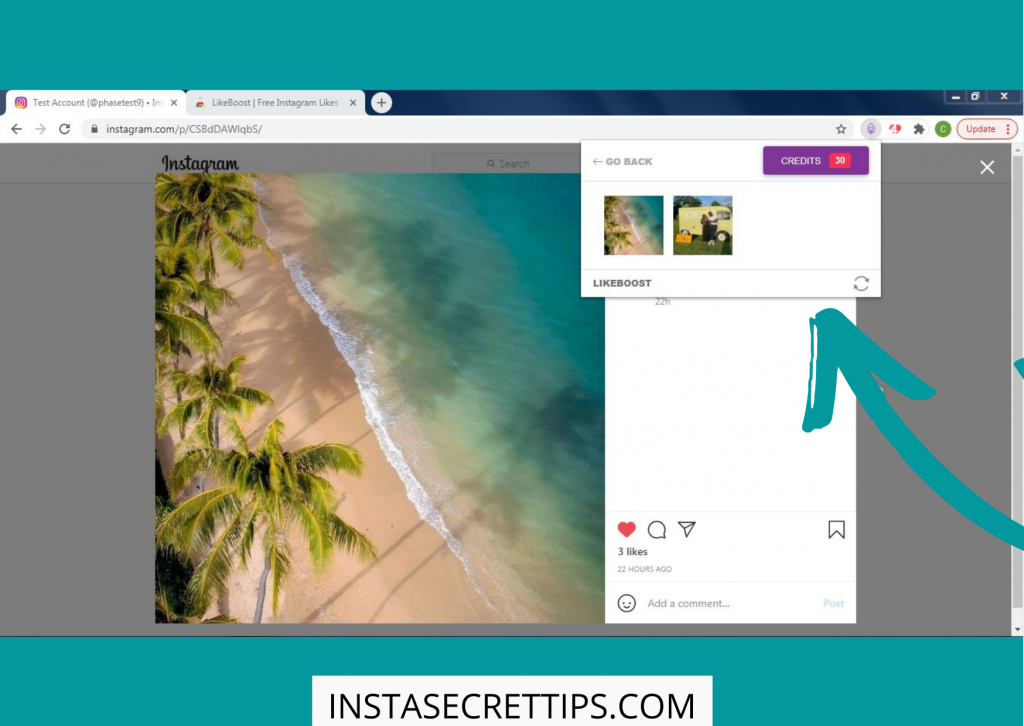 5- And that's it!
You would get likes right away to your selected post.
'Frequently Asked Questions' about LikeBoost!
Question- Can we withdraw like on a post of another account?
Answer- No! You can only withdraw likes on the account which was used by the extension to like other posts.
Question- How does it work?
Answer- It's similar to 'like for like' apps where you receive likes on your posts when you like other users' posts. The only difference is that it's all automatic and it runs in the background without you needing to do anything.
Question- Is it safe?
Answer- Well, I would be frank with you on this one. I have personally used it on one of the test accounts and it didn't cause any issue until now. Also, there are plenty of great reviews from other users which show how well it works. If you are one of those who wants likes to show off to your colleagues, increase the likes count, the extension is a good one. However, I won't say much if you want to use it on your business account, it's all up to you.
Question- Can it change my data?
Answer- It's not about if it can or not, it's whether if they would or not. As they have mentioned in their fair use policy that they will NEVER attempt to change your Instagram data and also would NEVER attempt to post, try to follow, or publish a comment, so most probably it's completely safe in this case. Moreover, as I said, I never faced any issues while using it.
Things that could be better in this extension?
Although everything that I noticed was not to be worried about, the like intensity was quite high according to my view. The likes that you receive are so fast that it could alarm the platform to check for bot activity on your account which ultimately if found true could get you in trouble.
The likes that are provided should rather be a little slow process according to my view.
Drip feeding is always safer than instantly providing tons of likes on a post.
How can you solve this issue?
You can yourself solve it until the developers change the frequency. Just make sure you withdraw like in the set of 10-15 likes per withdrawal, and you would never be in the suspicion zone.
By the way, would you use this extension?
What according to you did I miss?
Have you ever used it before?
Let me know about it in the comments down below.
And please do share this article if you found it helpful.
Till then?
See you next time!
Bye-bye.
P.S.- Subscribe to our newsletter so you never miss any updates.