Getting on Instagram Explore Page has always been a dream of every Rob and Jay when it comes to growing your following organically.
Instagram Explore page is like FREE Google traffic which sends a targeted audience to your webpage.
The audience from the Instagram Explore page is more likely to be your loyal fan and convert more successfully as compared to visitors from any paid promotion.
Instagram Explore page is STILL an UNTAPPED golden mine for many of the brands and marketers.
And I am saying this because most of the people on the platform often resort to 'Paid Ads', 'Fake Followers', and 'Getting More Likes" than the organic source.
To prove, here is the screenshot from Google Trends-


As you can already see from the stats of last 5 years, the search trends for 'Getting More Followers' and 'Buying Instagram Likes' is way more than 'Instagram's Explore Page' although the method happens to be the most organic way to reach your target audience.
Getting more followers and buying likes from online services might satisfy your ego for a short term, or even bring you some paid promotions.
However, when it comes to establishing your brand, a long-term goal is what YOU should always seek for.
Why is Instagram Explore Page Important?
According to a stat mentioned on Instagram's Business blog, more than 200 million users visit Instagram's Explore Page every single day.

Moreover, the reach it provides is absolutely organic and niche related.
Especially for businesses or brands…
As soon as your post appears at the platform's Explore section, it opens an ocean of increased opportunities to build a solid relationship with the users that are not even linked with your brand.
To that end, getting on EXPLORE PAGE could turn into a significant factor so as to grow YOUR BRAND'S feasible market instantaneously.
Since the Instagram platform possesses a user base of a billion-plus, learning how to thrive your company's account by securing a place on the 'Explore Site' is certainly quite critical.
Moreover, as we are talking about the power of utilizing Instagram's Explore Page, there are certain factors that come into consideration when one wants to rack up space on the Explore site.
How Instagram Explore Page Algorithm Works?
Every brand needs to go through Instagram's algorithm which determines whether or not a brand's post would show up on Explore feed.
For those who don't know-
"The Instagram Explore Page Algorithm is a list of guidelines considered by the company (INSTAGRAM) to generate an exclusive explore feed for every single account based on their interactions with other accounts."
The explore section came to the surface as a result when the company decided to offer a real-time content curation to its every user.
And hence, the base design was taken into consideration to achieve this.
The idea (of Explore Feed) helped Instagram produce diverse and unique content for each individual coming from profiles that a user does not even follow.
The post they (Instagram user) see on their Explore page depends on a user's previous likes and engagements with a certain type of post; after which, the company decides which posts to show on their personal Explore page section and which not.
Hence, in the event that an Instagram user builds engagement with your posts, your content possesses considerably a better possibility of appearing inside the Explore section of their fans as well.
As a result, this whole process establishes a complex link-building for your account reach.
The algorithm, in addition, makes your post even more probable of appearing inside the Explore Site of those users who might be enthusiastic about your niche-specific market.
On top of that, IG's Explore page attracts your potential clients by providing them with the appropriate content material they are seeking as per the subject which they usually have liked prior to now.
The Explore algorithm tracks the way users work together with the social console online. And then it builds content material that exclusively syncs with the way a user utilizes the application.
It is for this reason some users contemplate the 'Instagram's Explore Page' as the most authentic space on the internet.
Instagram implements AI as well as its giant personal data library to establishes its algorithm with regard to its Explore Page.
Employing a plethora of elements, the IG algorithm decides posts that could best suit one's concerns.
---
17 Actionable Tips to Get on Instagram Explore Page
1- Engage with your followers!
Engagement!
Engagement!
And…?
Engagement!
Your relations TODAY with YOUR FOLLOWERS will be your LEADS TOMORROW.
The tip holds validation from top brand pages to even a simple meme page with 100 followers.
Just go to Garyvee's profile and check how much he says about valuing your audience.
However…
The only problem I see nowadays is influencers ROOTING to grow their following.
But, let me tell you one thing- IT'S A HUGE MISTAKE!!!
If you don't care about your audience and don't engage with them either through 'comments, replies' or 'DMs', pretty soon you would notice your engagement going down.
With that being said, there are zillions of ways to engage and make your followers feel special, a few of those are-
1- Use Instagram Live- Go live with other influencers and answer your follower's questions. When in live, also try taking names of people who are giving their precious time to watch your live session. It will make them feel special and they are more likely to come and engage with your other posts too.
2- Reply Comments- I completely understand that you might be getting hundreds and thousands of comments on every post, but if you reply to your comments, your followers would feel special and are more likely to comment back again on other posts too.
3- Like Comments- I would suggest replying to at least 15 to 20 comments on every post (it takes just a few seconds). However, if you too busy to reply, just give them a like on their comments. Doing this would make them feel acknowledged and your followers would appreciate you.
4- Use Q and A Sticker- So this has been a game-changer for Instagram influencers to boost their Instagram engagement rate like anything. Moreover, let's say you are a brand with no brand ambassador or public face, using this Q & A sticker is handier than going live. Although both (GOING LIVE and Q/A STICKER) help you boost your engagement, brands can suit themselves with what they are comfortable with. If you have no face to promote it on live, you can partnership with any influencer (according to your niche) who can promote it on his/her account.
Increase your engagement rate using some of the tips above, and be creative with your efforts.
GIVE!
GIVE!
GIVE!
And then…you would get the RETURN!
2- Use Proper Hashtags!
According to a study conducted in 2014, almost 86% of the brands on Instagram use hashtags.
Moreover, a brand which uses hashtags get 12.6% more engagement than those who don't.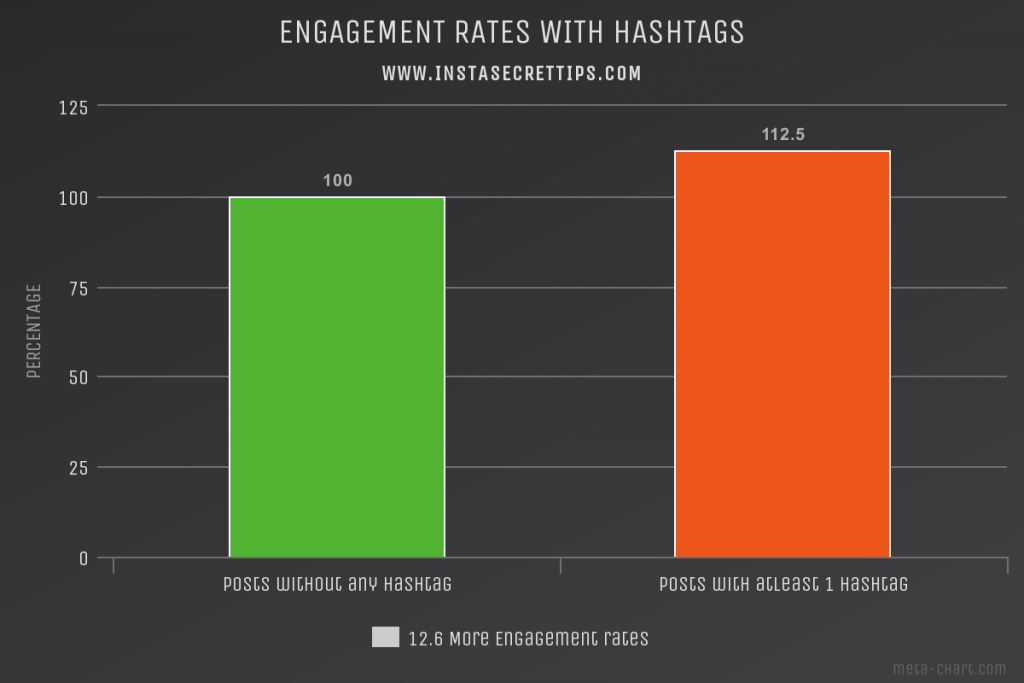 Instagram Hashtags help our content get discovered by the right audience. They organize our content according to our niche that increases the scope to get found in the right eyes who might be interested in our content.
However…
The number one mistake that I see many Instagrammer do is using the wrong hashtags.
Although popular or community hashtags might help you earn some likes instantly; however, your goal as a brand should be more to grow your community and increase the user engagement rate.
Let alone the popular hashtags, it drives me nuts when people use a hashtag that has nothing to do with your post.
I mean, why would you put #travelfun if it's the group photo in a party next to your house?
So make sure the hashtags you use in your posts are relevant to what your picture conveys.
Never use just any random hashtags only to get some likes as it puts you in the bad light and scales down the user engagement rate as well.
Wait!!!
I seriously want you to read this whole paragraph so you understand what I am exactly talking about.
Whenever I tell people to use hashtags to increase their reach on Instagram, they get impatient and use just any hashtag that doesn't even belong to their niche.
Don't blame me later!
The number one key for using hashtags is NOT using that are mentioned on the top FREE blog.
I mean, look it this way…
Top BLOGS and APPS receive TRAFFIC IN MILLIONS, and if not all, THOUSANDS of Instagrammers just COPY+PASTE the whole snippet in their caption section.
So what it does- It makes your post compete with thousands and millions of other posts who used the same thing by sorting all in the same category.
I mean,…You would not want that- FOR SURE!
More the competition, tougher it is to out beat others (especially if you are super new).
Additionally, using the same hashtags over and again which thousands of other brands are using makes you look spammy.
So just skip using any of such sites or apps.
Nevertheless, if you seriously want to use those hashtags (from apps and blogs) and don't have time for creating a list of your own, just 'SHUFFLE AND SKIP'.
What I mean by SHUFFLE AND SKIP is to rearrange all those ready-made hashtags, and remove a few of them from your caption so you could make it look unique to some extent.
By the way if you want to learn everything about hashtags and how to use them, just visit the link below where I explained every in and out about using them properly.
It's a good one!
Learn More- How to Use Instagram Hashtags 101? (LINK)
3- Skyscraper Technique For Instagram
For guys who have been into blogging or SEO for a while now, the Skyscraper Technique is nothing NEW!
Let me give YOU a short explanation in case you don't what it is-
Skyscraper Technique (developed by Brian Dean) states that in order to beat your competition website, YOU need to make your content 'BIGGER' (in terms of length), 'BETTER' (design and look), and 'MORE SEO-FRIENDLY' (which includes keywords, getting more social shares, backlinks, etc.)
Although INSTAGRAM isn't as tough as GOOGLE and you won't need this amount of work as much you need to rank your blog, the CONCEPT of SKYSCRAPER holds true for this social platform.
What you need to do?
#Assuming you want to make a brand page for a company that sells 'BLACK COFFEE'.
Here are the steps that I would suggest you to follow-
Step 1- Go make a FAKE PROFILE (or you can use your own, but its better you make one so you get better insights) and FOLLOW PAGES that deal with beverages.
Step 2- LIKE and ENGAGE with all those PAGES for a few days so YOU can manipulate Instagram to show you only 'BEVERAGES RELATED' content on your feed and EXPLORE PAGE.
Step 3- Now notice the content that is RANKING on Explore Page (TAKE A NOTE OF THESE PAGES).
Step 4- List down at least 10 pages which are ranking and try to out beat all of them.
Step 5- Use CANVA or HIRE A PROFESSIONAL to make better posts that ATTRACT users.
Step 6- Check if the FINAL OUTPUT is better than all those competitors who were ranking before. If the answer is YES, it's SHOWTIME!
P.S.- Getting on Explore is the compounded effect of all efforts, so just following the above steps won't create any magic. YOU need to follow all the steps (above and below) to capture your space there.
4- Tag Location on your Post
So this could be one of the best approaches in case if you are a local business or brand.
Let me give you an example so you understand what I mean-
Suppose you have a coffee shop in Manali, and you have a brand page named "xyz_cafe".
So when you tag your location in your posts, people who visit Manali, or are just looking for great places to hang out for a while, they would see your post in their Explore section when they search for the specific location.
Moreover, people in Manali would notice your post in the Explore section when they select 'nearby' places.
Tagging locations (especially if you are a local business) on your post would not only move your post to the Explore section but also bring you more visitors.
5- Know the Power of CTA
What is CTA?
CTA stands for Call-To-Action.
You must have seen some of the influencers using phrases like-
'Swipe up to see more!!!'
'Double Tap if you Agree'
'Tap on the Image to See the Magic'
And many more…
I know some of those are completely childish sometimes, but this is a great technique that you can implement to boost your profile.
And…
Ultimately secure a place on Explore Page.
Make your followers complete a task, challenge them, use this 'Call-to-Action' strategy to get them more engaged.
Go to Jay Shetty's Profile on Instagram, and see how he gets his audience engaged.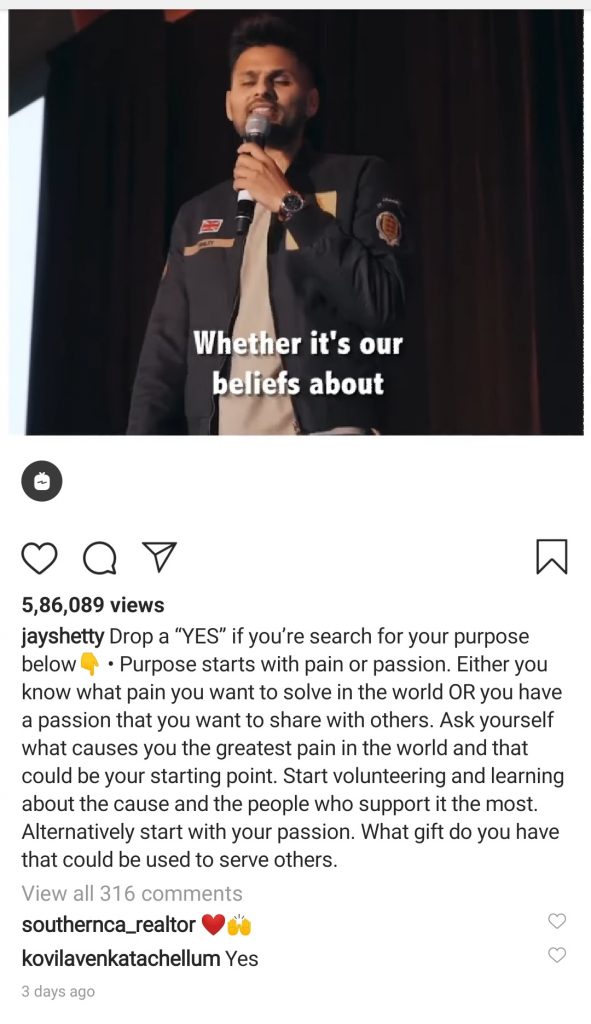 You can also see how Gary Vaynerchuk (garyvee) uses this strategy to get his audience more engaged.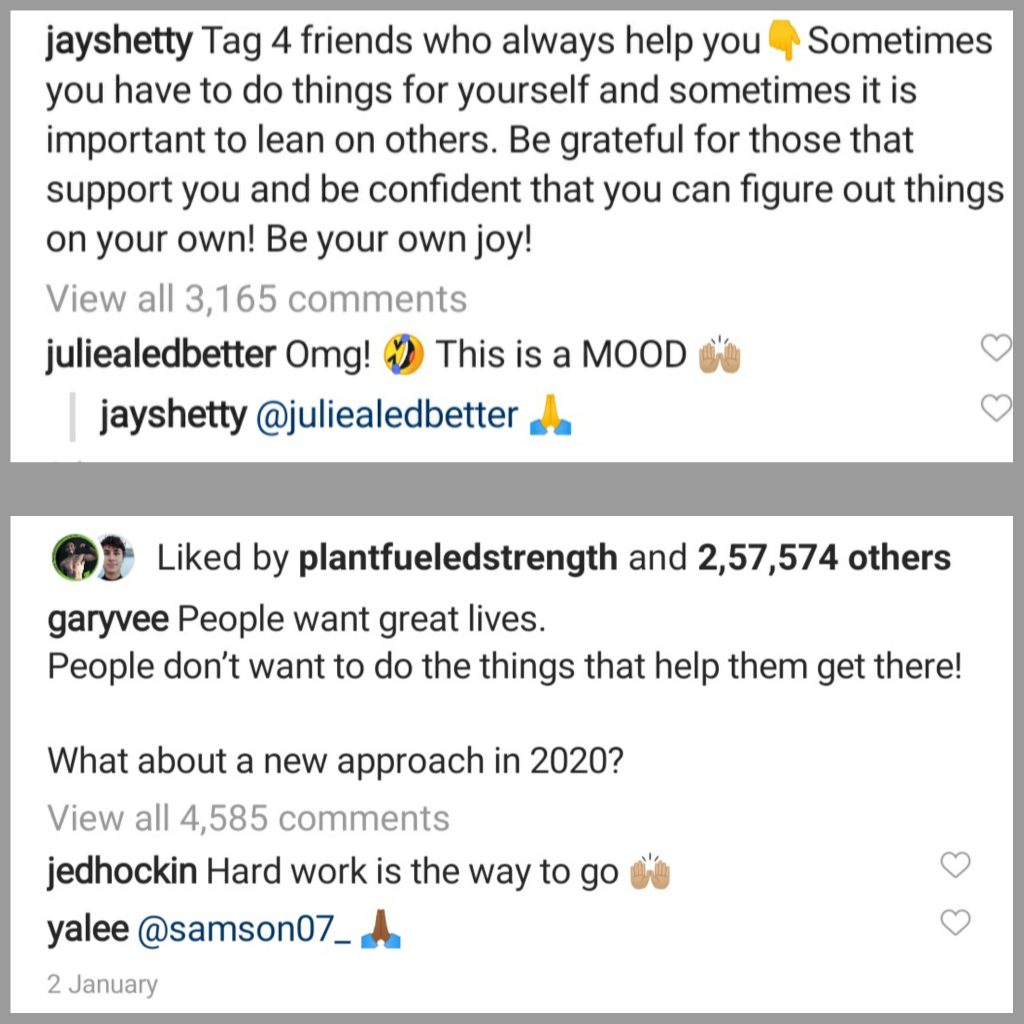 "Tag 4 friends who always help you"– Jay Shetty (Here he is adding a emotional touch which works the best to get more comments and boost your engagement)
"What about a new approach for 2020?"- Garyvee (First he posted an incredible picture that gave a certain message and them he asked a question. It makes his user share his ideas about the view on the post which ultimately increases engagement!
Look at some of the examples above and try replicating the idea in your posts too!
6- Deliver when it's the Right Time!
So let's say if you are targeting North-American audience and you are a brand page from some Asian country.
Listen to me carefully…
"You (THE BRAND) are working for them (THE AUDIENCE)."
Read that again!!!
So when you realize that, you would also understand that they (YOUR AUDIENCE) won't take out their precious time for you (THE BRAND) and check your posts at 2:30 AM (it's day in Asia at that time).
Moreover, the later it gets (for users to open and check your post), the more Instagram sends your post down the drain.
The initial boost happens to be a main factor that decides whether or not your post would hit explore.
So always…
Always…Always…Always…
Post on the time which gives you the maximum engagement and reaches.
You may want to ask now-
"But how do I know the BEST TIME to POST?

More than 165,000 people search for the keyword "Best Time to Post on Instagram", that too just in the United States, let alone the whole world.
I searched for the term on google to find if there is any actual answer.
The results I saw were quite surprising!
Why?
It was becasue when I clicked on the articles that Google floated on my Tablet, I found that there was a huge (HUGEEEEEEEEEE) variation in the each output.
Now I don't say that they are wrong or right, but I believe, not all brands and pages are the same.
Everyone just conducted a survey or put a few pages in every niche under experiment, and came up with their analysis.
Would it work?
It may!
Or maybe NOT…
Let me explain to you why it won't work for each page-
I am assuming YOU have a brand that sells protein supplements. And most of the articles are written as if the target audience is based just in a particular country. So let's say they mentioned it's 3:00 PM (the best time to post), but you have where your 90% audience based in Asia. And the experiment was run on BRAND PAGES where the majority was from the UNITED STATES.
Think yourself…
Would it work?
I highly doubt!
I hope you get what I am trying to say.
So???
How do you find the best time to post on Instagram?
Step 1- Go to your insights (everyone has one if you have a business or creator account) and go to the audience tab.
Step 2- Now check the Top Locations where your followers are from, and then compare their time zones (to find a median time that suits your priority countries).
Step 3- Sort for the countries that are your priority (let's say you have 70% of people from the US and you want US customers).
Step 4- Now test your posts. Test what content works better at what time and what brings engagement.
Step 5- Continue this process for 2-3 weeks (to check which days work best) and make analysis out of it that is 100% accurate for your brand page.
I have personally suggested many of my friends and it works like CHARM!!!
By the way, let me know in the comments about the timing you found that worked on your page.
I will be waiting…
7- Use Influencers to YOUR Advantage!
If you have been into blogging or even heard about it from online sources, you would be exactly knowing what a BACKLINK is.
For those who don't know, a BACKLINK is an incoming link from an external blog to your blog.
What is does?
So let's say if a reputable blog (such as Nytimes, Backlinko, Neil Patel, etc.) gives you a backlink from their site, your blog would get more DA (domain authority) and Google would value and trust your content.
Ultimately, it would boost your exposure by uplifting your ranking in the search results.
THE SAME PHENOMENA APPLIES TO INSTAGRAM TOO.
How you can do it?
"Get influencers and other famous brands to like and engage with your content."
Even a like, comment or share from a high-quality page or influencer would put you in the good books of Instagram and it would favor you by pushing you in Explore feeds.
Here is how you do it-
Assuming that your brand is about 'Protein Cakes', find at least 40 to 50 influencers that are in the fitness niche and DM them personally by mentioning a little bit about you and your brand.
Now mention those influencers or brands in your post and let them know about it.
In the event they liked or even commented on your post, it would miraculously boost your post and your skyrocket your chances to get on Explore page.
However, if you are a new brand with only a few hundred followers, you should skip messaging influencers like Jen Selter, Zose Zuniga, Alex Costa, etc., as they already have followers in millions, and thousands of people try the same strategy every single day.
For new brands (less than 5k followers), it is better if you target influencers with near to the same following (5k-20k) as yours to get high results.
8- Get Boost from Famous Influencers -[Secret Tip]
Instagram doesn't value all likes equally.
A like from 1000 followers account is more valuable than an account with 20 followers.
If you sell some great products and you are quite confident about the quality, you can try sending free gifts to influencers.
That too…Even high profile influencers like Zose Zuniga (one of the most famous lifestyle influencer, and YouTuber)!
Just create a list of all influencers in your niche and note down all the important dates such as Birthdays, Marriage Anniversary, etc.
Let me give you an example of this-
So let's say YOU have a BRAND that deals with the kid's clothing collection. And since YOU know (as you keep a record of important dates) that ZOSE recently had a daughter, here is what you can do-
INTRODUCTION…
Step 1- Go to Zose's profile and comment something really exciting and meaningful on his post.
Step 2- DM him about your brand and let him know who you are. (Although there are 0.000056% of chances he would read, you should do it!)
CONNECTION…
Step 3- Write an exciting NOTE and send one of the best clothings (for the newborn baby) that your brand has. Also, mention AGAIN about your brand and make him feel appreciated for helping millions of dudes to be better.
Step 4- If your message is quite touching, I am sure he would return the favor and share it on his profile as a response of appreciation. However, if he doesn't, FOLLOW the next step.
APPRECIATION…
You introduced about your brand in DM, you sent one of the best gifts for his lovely daughter, you sent congratulation note along with your gift and appreciated his efforts.
Step 5- If you did all this, I am sure Zose would have an appreciation for you as well. Now mention him in any of your POST (especially which you want to boost), it is now 99.99% probable that he would like and even comment on your post.
A like from a famous influencer such as Zose Zuniga would boost your post to appear on the explore page.
P.S.- Just a reminder, please don't spam Zose's DM (unless it is for wishing him for becoming a dad). I just gave an example above of how to execute the process. Moreover, there are many other influencers that you can approach. Just make you find the right one in the same niche (so you can easily promote).
9- Create Magic in Visuals
Look at this screenshot from TechCrunch-


The screenshot makes the point that Instagram videos get more preference in terms of ranking in Explore feeds.
And it is for the fact that they keep moving in user's Explore feed.
But you can't just post any random video and expect it to show up on Explore feeds of other users.
Look it this way…
Millions of photos are shared every single day on the platform! Hence, the probability of your post getting buried in the user's feed is quite high.
The only thing you should remember is that Instagram was started for photos.
So YOU (the brand) must not forget the core it is created for- To share amazing photos.
Create something super-exciting!
Use Canva!
Use Pictochart, Vyond!
Add variety!
Just stand out and make something extraordinary.
Moreover, in case if you are not good at creating high-quality visuals, just go hire someone to make it for you.
Good quality photos or videos would not only boost your following but also bring you more leads from the trust you built from your great content.
Additionally, as you can see (in the above screenshot that) "High Quality Visual with LESS TEXT gets more preference", so make sure you don't make it all messy by loading your images with tons of text wrapped around.
Be concise, catchy and, to the point!
10- Tag your Products in your Feed to Get Featured on Explore's Shopping Section
This is especially for brands who are selling products; however, it could be a game-changer even for new brands if followed properly.
Although many of the brands have already started doing it, I still notice some of the new brands skipping this crucial step.
Let's say YOU run a store named "xyz..–..mug" where you sell coffee mugs across the US.
So what I would strongly suggest is to TAG your product in every single of your post which features and of your product.
Doing this would not only help the viewers to directly go to YOUR store and BUY it but also your PRODUCT is more probable to show up in other user's Explore Shopping Section.
Create some amazing visuals with captivating content, and there are high chances that sooner your post would turn up on Explore's Shopping Section.
Go try it!
Let me know how it went:)
11- Learn it from The KING OF EXPLORE- PACINO!
Have your heard of PACINOS???
It's like, EVERYWHERE on the INSTAGRAM that it sometimes feels like Instagram itself owns it (just kidding!).
So for those who don't know-
Pacinos is a hair-product company that sells various sorts of men hair products such as clay, waxes, hair spray, etc.
First and foremost, this is not any promotion or something, but their marketing strategy is something that is a lesson for new brands out there.
If you don't trust me, just go follow any of the hair products brands, and watch a few hair or fashion videos.
And the next moment…
Ta-da!
Pacinos EVERYWHERE on EXPLORE.
Not don't get me wrong that all videos are from the same page. I see 100s of pages floating in my explore about hair tutorials, but the best part is that if I see 20 of those videos (from different pages), almost 15-16 would be using products from Pacinos.
And it is for this reason I call them the KING OF EXPLORE.
I don't know much about their hair products, but their marketing strategy is something what you can learn from.
They promote their brands to many and many of these Instagram influencers who post their video (that too in super high-quality visuals) using the brand Pacinos.
So when Instagram sees it coming from thousands of people, the pages get a mutual boost and they turn up on every guy's feed who is interested in hair content.
I hope you understand what I am trying to say.
Just look for inspirations out there.
Hundreds and thousands of pages always get to Explore now and then.
Keep an eye on them (especially who are in your niche!)
And see what worked.
Following that make your content 10x better and follow these (ALL) strategies.
I am sure you can make it!
Start TODAY itself!
12- Start Using IGTV!

I can't stress it enough anymore…
Just start it!
IGTV is one of the hidden gems that most of the brands usually skip.
Start using it creatively in accordance to your niche, and trust me you will see some great results in the long run.
Even if your brand sells things as simple as an eyeliner, it's never too late to start your journey on IGTV too.
It could be as simple as a 2-minute video showing how to use YOUR (the brand's) eyeliner, or how your eyeliner is different than all other brands out there.
Find your innovative ways.
Just go start it today!
13- Make your Follower to Turn on the Notifications!
So after the changes in the Instagram algorithm, many of the influencers noticed that the reach of their post was exponentially reduced.
Not only did the new influencers with a few thousand fans saw this effect, the algorithm update even hit famous public figures who had followers in millions.
First and foremost, you have to keep this in mind that you can't force your followers to turn on their post notification.
How to do it then?
Step 1- Give Value!
Step 2- Repeat step one.
Step 3- Repeat step one.
Step 4- Now Ask the Favor!
Making amazing content using Canva, Pictochat, or Adobe that would be useful for your audience.
Keep posting more and more!
And then mention what you want (Turn On the Notification).
Here is a great example of how Garyvee does-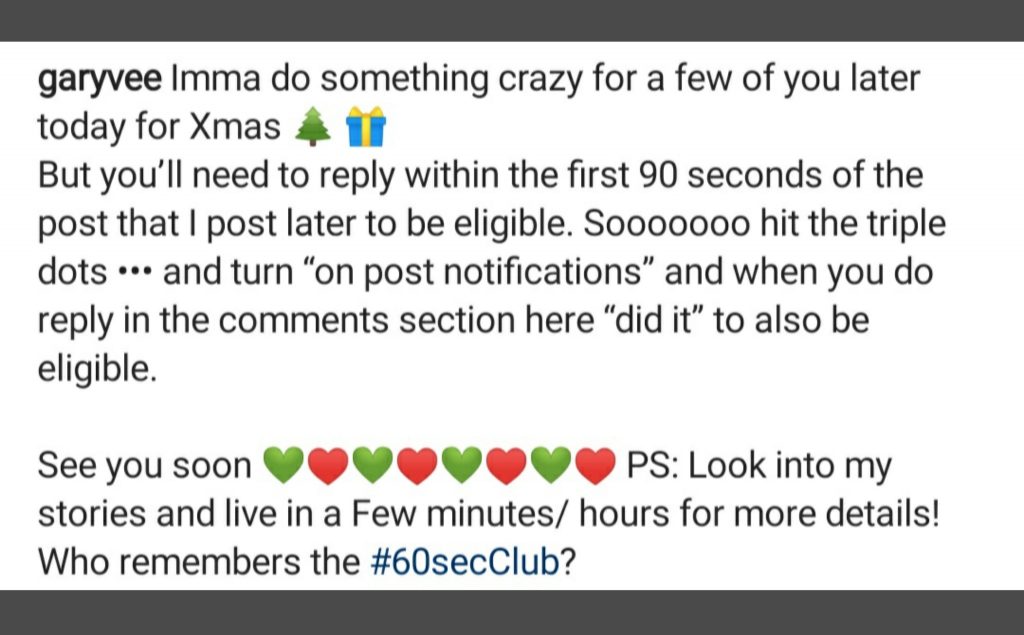 Why is it important though?
If your followers turn on their notifications, Instagram would notify them whenever YOU post.
What it would do is, it would increase your reach and engagement.
More the engagement on the post, more probable it is that your post would appear on Explore Section.
14- Use Instagram Insight to Know your Right!
Everyone has their own insight that Instagram provides which shows how your posts are performing.
When testing which time works best for you, also track other aspects too.
See how many hashtags brought more engagement.
Look what type of content brought more visitors.
Analyze what brought more conversions.
Tracking and analyzing your report would help you define your strategy to get the maximum out of the platform.
15- Stick to your NICHE!
So this is one of the most important of all.
I have literally seen many of the pages and brands posting any random content just to main the frequency of posting.
While maintaining the frequency of your posts is important, posting content that is outside of your niche could give you a negative point.
Why???
It is because when YOUR audiece who is interested in conceiving content related to pets (just for example) watches a post that depicts bottles of beer, your users engage exponentially less than usual.
And I am not talking about celebrities here.
Of course, celebrities have the liberty to post a variety of content on their post, but when you are brand or page related to a particular niche, your followers always have an eye to see content that is niche related.
Moreover, there is one MAIN reason why I am saying this is-
"Assuming you have a travel page when you post content that is related to traveling, Instagram gives your page a plus point and the chances of YOU (the brand) appearing in the 'Travel' section of Explore will boost exponentially."
16- Use Stories to Promote YOUR POST!
Have you seen many of the influencers posting a story about their recent post?
IT'S NOT NEW, right?
You just go to any influencer's post out there, and you will spot this common factor.
However…
Do you know why do they do it?
To increase their REACH and ENGAGEMENT!
Following the latest update in the algorithm, as you know, the organic reach of posts has declined to a great extent.
Hence, influencers would have to find their own ways to increase their reach to their all followers.
Getting your followers to turn on their post notification is one while sharing your post in stories in another.
However, just make sure you don't show the whole post in the story itself.
Put it in your story in a way so the viewers open and visit your post.
17- Create Native Content Just For Instagram!
I don't why people do it, but it's too SAD noticing it EVERY SINGLE DAY on the platform!
When it comes to getting the right dimensions for posting Instagram photos, people keep everything in account, the case is not true for videos though.
I have seen people posting videos that they made for their YOUTUBE CHANNEL or SNAPCHAT.
Not all platforms are the same!
Always keep that in mind.
Create a video either in the 'Landscape' view or 'Vertical' view, and make it relevant to the platform.
Just have a look at Jason Capital's profile on Instagram, and look at how he does it.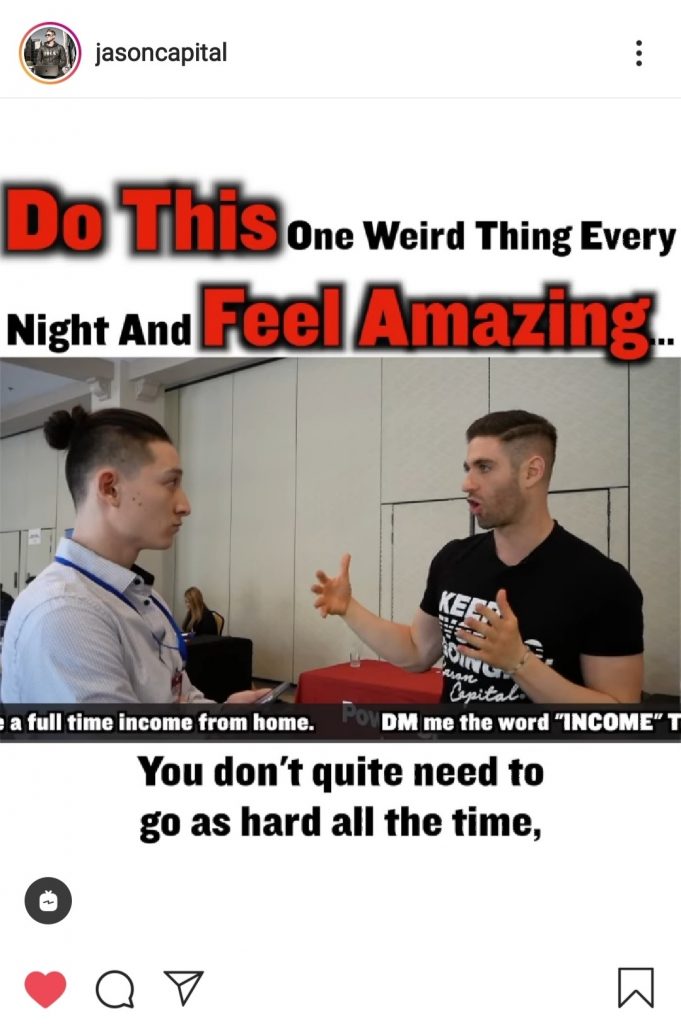 He makes videos with the heading written on top and a slider (with some quote in it) which keeps on moving as the videos run.
Just look how clean and professional it looks.
Although it might take some time, but hey…, if you want to build a brand, you got to work extra harder.
How to know if YOU are on Explore?
Initially, it was like that we analyzed which posts got more interaction from usual, and decided if our post reached the explore feed.
It's not the case today, however.
If you are a brand or influencer (you must be having a creator or business page), Instagram presents you with a personalized insight that is made exclusively from your posts.
It additionally shows you the people where they came from.
Brands will see an additional option of 'Explore' in the list of Audience sources.
Cool, right?
By the way, which of the above step are you going to try?
Do let me know about your views in the comments down below.
And please share if you liked this post!
P.S.- If you want to read more posts like this, subscribe to our newsletter so you never miss any update.
Till then?
See you next time!
And???
Bye-bye.