Following the recent outbreak of coronavirus throughout the globe, there has been a constant range of misinformation airing on all social platforms.
That being said, Instagram is no different!
Instagram's initial step turned out to be in the direction of removing 'known harmful misinformation related to COVID-19' that some mischievous people were spreading on the platform.
As a result…
The Instagram app started connecting users to credible sources by highlighting links to the World Health Organization (WHO), the Center for Disease Control and Prevention (CDC), and other local health authorities following one searches for hashtags such as #coronavirus, COVID-19, etc. in the search bar.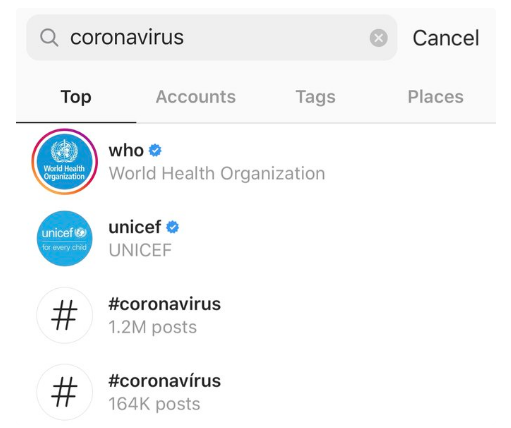 "We are temporarily banning advertisements and commerce listings, like those on Marketplace, that sell medical face masks. We'll begin to enforce this change over the next few days. We already prohibit people from making health or medical claims related to the coronavirus in product listings on commerce surfaces, including those listings that guarantee a product will prevent someone from contracting it."- Parent company Facebook mentioned in its recent blog article.
Robert Leathern, the Product Director at Facebook additionally mentioned in his recent Tweet-
"We're banning ads and commerce listings selling medical face masks. We're monitoring COVID19 closely and will make necessary updates to our policies if we see people trying to exploit this public health emergency. We'll start rolling out this change in the days ahead."
As clearly acknowledgeable from the above two highlights, the company doesn't want people to exploit this critical medical emergency.
Hence, it has decided to ban all the ads and commerce listings for medical masks for the time being.
Here is what Adam Mosseri said in his recent Tweet-

Instagram accepts the role that social media plays in such intense situations and it always takes the responsibility of everything that happens on the platform.
It is for this reason…
The company conveyed that it would be strengthening its fact-checking program so as to ensure that none of the misleading posts extend further.
Furthermore, Instagram would be taking down all such misleading posts that create hoaxes and spread misinformation among other people.
The current situation is quite tense all around and calls for an immediate intervention of such powerful platforms to take actions and stop spreading of any such hoax.
And…
To be frank, Instagram is doing their best at their part.
Just make sure you back them up by reporting posts for fact-check if you think any such post that is creating a hoax or giving mislead to innocent to users.
Let me know your views in the comments down below.
And please do share if you liked it!
P.S.- If you want to read more posts like this, subscribe to our newsletter so you never miss any update.
Till then?
See you next time!
And???
Bye-bye.
Read More- Instagram Powers its Users Report False Information!