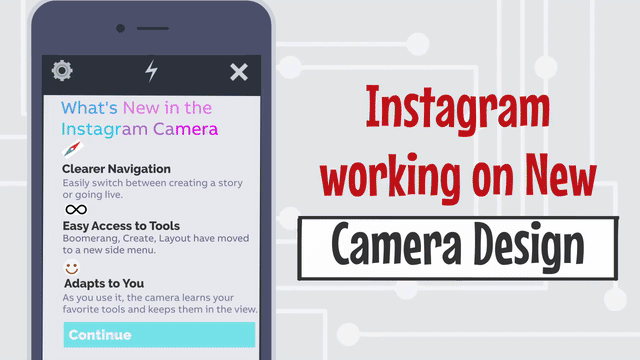 Speed is the name of this new era!
People tend to seek faster results for everything that they do in their daily life.
Be it the speed of the Internet, or even before buying a motorbike.
Users always have speed as a main attribute followed by other factors in consideration before jumping into any conclusion.
Every commercial is based on the theme of how fast its products can be.
Even Google prefers and ranks the websites which have faster loading time!
So you see…
SPEED MATTERS!
Especially in this tech world where people don't love to wait even for a few seconds, there has been a gradual shift of perspective while developing anything for the projected market.
And not so surprisingly…
Even apps are bounded in this perspective loop.
It is for this reason, there came 'Lite Versions' of all apps along with the main app which consumed farther less space as well as some built-in features that eased the complexity of existing features.
That said…
Instagram is currently testing a new camera design that would ease the navigation of various story features that maybe a cause of an issue for some.
Although few seconds is not that big of a deal, giant companies like Facebook, Instagram, etc. always have an eye to ease its app's interface and functionalities.
Right now…
When YOU switch to Instagram's camera, you would notice options like 'Create', Boomerang', 'Handsfree' etc., on the bottom of your mobile screen.
Moreover, switching between features like 'Handsfree' (which is at last) and Instagram Live (at first) takes some time, but it's not something Instagram users (or me at least) worry about.
However, Instagram doesn't want its users to even waste 2 seconds doing this in their Instagram camera section.
The newly tested camera design has easier navigation which makes it possible for YOU to switch between creating a story or going live within a split of a second.
With the latest rollout, all tools like 'Create', 'Boomerang', 'Superzoom' etc., have been shifted to a new side menu.
Furthermore, as the user uses the tools like 'Create', 'Boomerang', or an Instagram filter, the app keeps a record of it and learns your behavior for the particular options.
The data thereafter is used for surfacing the options which YOU mostly prefer based on your past usage.
So…
How long would it take for the feature to roll out?
As far as from the recent announcements, there has been NO official statements via Instagram when or if this feature would roll out publicly.
However, a twitter account named 'gbougakov' mentioned on his twitter handle that it was already available in some of the Instagram accounts (video below!).
It's not that Instagram rolled out this feature for beta users as I am a beta user as well and it's still not there on my app.
Maybe the company is testing this in phases to some of the accounts to collect result behavior from a few users.
It would hard to explain further if this would the final result of the new camera design until Instagram itself decides to roll it publicly as it has been in the testing phase for quite a long now.
Initially too, it has been spotted two months back by Jane Wong, a reverse engineer from Hong Kong who finds unreleased features from popular apps like Instagram, Facebook, etc.
Nevertheless, the news has been in the air after some of the users found it available on their app.
I don't know how far this feature is going to be praised by Instagram users, but for me at least, getting used to the new design would be a bit odd for some days.
Was it necessary?
I would say, it depends on user to user.
Some users like gradual updates and shifts of initial layouts, while some don't.
Which type are YOU?
Did YOU like it?
Please let me know about your views in the comments down below and share this article if you liked it.
P.S.- Subscribe to our newsletter so you never miss any update.
Till then?
See you next time!
Stay safe!
Bye-bye.
Read More- Instagram rolls out Donation Feature for Live Fundraising in Instagram Live!