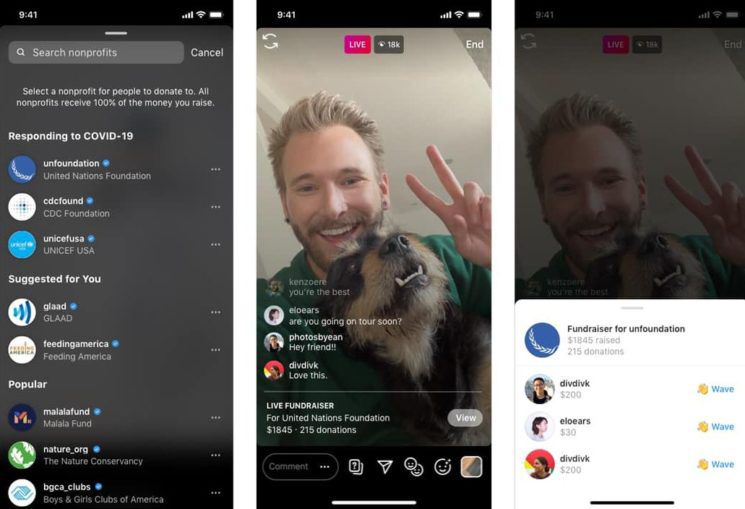 Instagram is doggedly persisting to cater new means that could help small businesses and companies to get through this tough time.
COVID-19 has not only stopped the movement of common people and brought everything to rest, but it also crashed some of the biggest economies in the world.
The economy crisis leads to more poverty and hunger which ultimately puts a huge load on NGOs working for a cause to increase their performance exponentially.
More the pressure on these NGOs, more they need your financial support so as to facilitate everything in such a short span.
It is for this reason Instagram now rolled out their 'Donation' feature; however, this time in Instagram Live.
Post-updating your Instagram app, users would now be able to use the option to raise funds for respective NGOs.
Instagram mentioned-
"Many people are facing challenges at this time, and we want to do our part to support nonprofits and communities who need it the most. Now, you can easily create a fundraiser on Live with 100% of the money raised going directly to the nonprofit of your choice."
How can YOU use this feature though?
So…
Once you go LIVE on Instagram, you will now notice a "Fundraiser" option on the left side of the screen.
Post-clicking, you will be directed to a section where YOU can select the NGO or page (if available in options) you want to raise funds for.
After you have selected an option, YOU would notice a 'LIVE FUNDRAISER' label at the bottom of the screen where YOU can view the total fund that is raised and the number of donators.
If you click on the "view" button, Instagram shows you all the users who donated during your LIVE campaign and also the amount as well.
There is additionally an option to wave (zoom in on the picture above) to show your appreciation to all the users who donated to the cause while you were LIVE.
You may wave to them using the option, or it's always better to mention and appreciate them by saying their names.
It's all your call!
Furthermore, in order to boost awareness for Live fundraisers, Instagrammers who donated to the cause would now be able to use the 'I Donated' sticker in their Instagram stories.
Instagram clearly explains about it would all work, it quoted-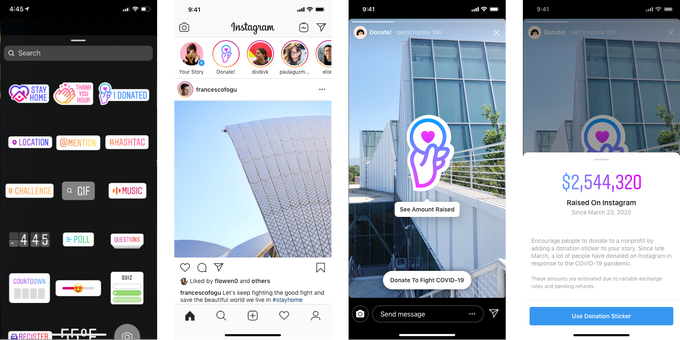 "When you donate to a nonprofit fundraiser on Live or in Stories, you can access the sticker for a select period of time. Accounts you follow who use the "I Donated" sticker or donation sticker will be added to a shared story at the front of your Stories bar for a limited time, allowing you to see how your community is helping support those affected by COVID-19."
It would not only help Instagram promote this 'Live Fundraising' feature but also your story would appear on top of the feed in a shared story.
A win-win situation!
Indeed:)
Moreover, the donation goes for a noble cause so nothing could be more satisfying than that.
Isn't it?
Instagram has been consistently exploring means to help everyone on the platform (small businesses and NGOs to be more precise), and their efforts surely map to their intentions.
Just a few days ago, it launched "Support" and "Gift Card" stickers to make it easier for small businesses to raise funds and keep their business going.
Read More- Instagram Rolls out 'Gift cards, Food Order and Fundraiser Stickers' amid Covid-19!
And I am pretty sure this is not the end!
Instagram would keep on bringing in additional new features that would make it easier for its users to cope up with this pandemic.
By the way…
What could be next?
Any idea?
Drop your views and suggestions in the comment section below!
And please do share this article if you like it:)
P.S.- Subscribe to our newsletter so you never miss any post!
Till then?
See you next time!
Bye-bye.