The moment one thinks the Instagram platform couldn't be better, the company comes up with yet another feature to ultimately ease the overall functionality and interface of the main app.
Jane Manchung Wong, a young girl (also a reverse engineer) from Hong-Kong who tests the unreleased features of the app recently publicized on her Twitter account that Instagram is 'testing a story feature that would display user location on the world map'.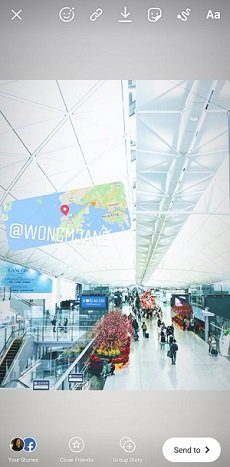 In the event, if the feature rolls out, Instagram users would notice a map with a red marker specifying the location where they are currently at.
Although it is pretty much expected that it would not share the exact location as a part of privacy concerns, the step seems merely a slight shift to integrate the long-awaited location feature.
To that end, things are still up in the air for everyone out there how it would actually work except for the company itself which did not made any official announcements yet.
The feature bears quite a bit resemblance with that of Snapchat's Snap Map Tool that received quite a generous amount of popularity since the app focuses on an enclosed circle of friends.
In contrast, Instagram's recent private messaging app came with the same functionality that enabled users to share their location with their followers in their close friend list.
Pretty much same like Snapchat!
Having said that, the new shift seems an approach to add this location feature in the main app too, so Instagram users who want to share their location publicly with everyone on the platform can utilize this awesome feature.
Nonetheless, the feature seems to come with flexibility and enable people to opt for groups, lists, or users where they want to share their location.
As I already mentioned, the company didn't made any official announcements, but seeing the positive reaction all over, users can expect the official rollout in a month or two.
Exciting, right?
Let me know in the comments down below about your views and suggestions.
And please do share this article if you liked it!
P.S.- If you want to read more news like this, please subscribe to our newsletter so you never miss any post.
Till then?
See you next time!
Bye-bye.
Read More- Reports on Changes in Instagram in 2019!!!