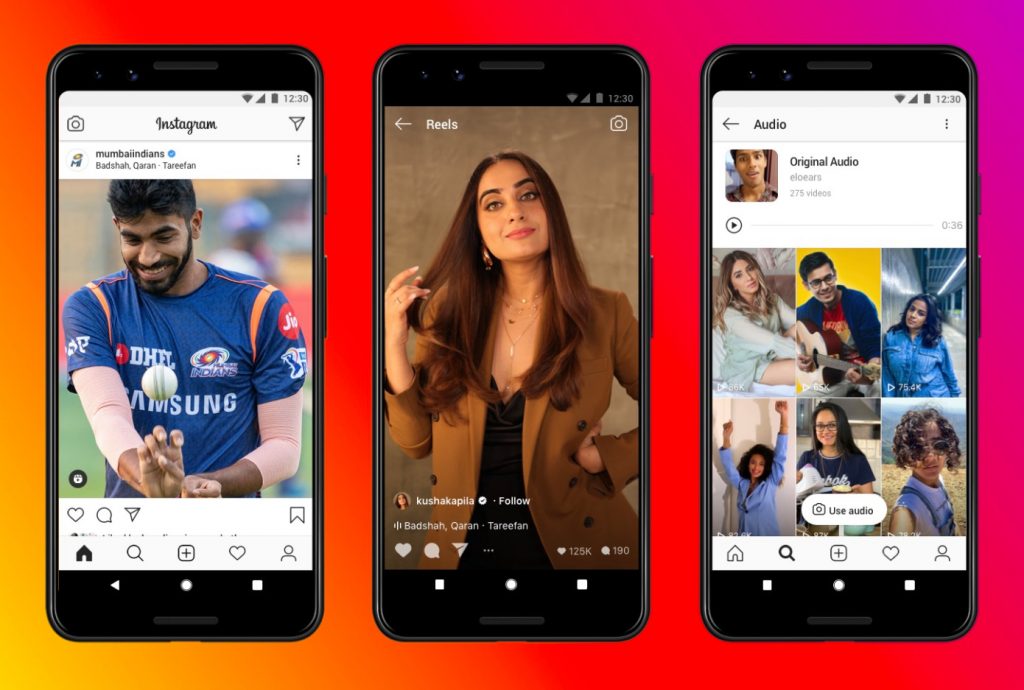 Cashing in at the right moment is what big companies are best at.
You know why?
It was just two days ago…
I woke in the morning!
And as usual, I started replying to the DMs and emails that I was notified about.
Soon after, I opened my Instagram!
And I see what?
REELS!
For a moment, it was too strange for me to notice such a big feature rolling out all of a sudden.
I mean…
Reels was only available in three countries- Brazil, France, and Germany.
Instagram never revealed the successful results that it received earlier.
Moreover, if Reels was that successful, there were other countries too where it could have been rolled out.
Post-rollout…
India became the fourth country where Reels is now available.
But…
Do you know why?
Sometimes things are not how it seems to be.
For some foreign news channels, it's just a rollout that Instagram recently did.
However…
It was rather a timely smelled opportunity that made the company to take this sudden action.
Let me tell you why…
From the past three months, the border dispute between India and China reached an all-time high that brought the two countries at a state of war.
As a result, India banned 59 Chinese apps (over safety and privacy issues of users) including TikTok which had almost 120 million active Indian users (me excluded) using their app daily.
Just a day after, there came a flood of clone apps that offered the same functionality as TikTok as an after-affect to score as many users as they can.
And not so surprisingly, Instagram too joined in the bandwagon when the head of Instagram India, Vishal Shah notified about it publicly.
Vishal Shah said, "Instagram has always been a place where culture is created because people come to share the things they care about and be entertained. We're constantly listening to our community, and have heard that they want to make and watch short-form videos on Instagram and have the opportunity to be discovered by our broader community."
"We`re excited to expand the test of Reels to India and give the next generation of creators born and bred in India a chance to share their native and cultural context — and be potential global stars," he further added.
The feature was not just rolled but also populated via a broad range of celebrities and creators such as Arjun Kanungo, Ammy Virk, Kusha Kapila, Gippy Grewal, Komal Pandey, RJ Abhinav, and Ankush Bhaguna.
Although Indians always had a love-hate relationship with TikTok (even prior to the border conflict), Instagram rolling out Reels in India seemed to be one of its attempts to seize the vacated audience of TikTok.
Apps like Roposo and Chingari have gained millions of fans post-TikTok ban so there already are some competitions for Instagram to fight with.
That being said, Facebook India's head, Ajit Mohan already stated his view over the competition that might come into Instagram's way.
He said, "We expect competitiveness, and we expect others to create solutions in a thriving country. Given the global reach of Instagram, we expect to crate global starts from India in a new format."
However, the fact that Instagram already had a massive following of users labels who wins in the end.
Like it happened in the past, it would just take a short span to blow away all the small startups that might have seen a scope to fill the TikTok void.
What do you think?
Will Reels be able to take up the pace TikTok left with?
Or it would receive love-hate mixed feedback as TikTok did?
Let me know your views in the comments down below.
And please do share if you liked this post.
P.S.- Subscribe to our newsletter so you never miss any update.
Till then?
See you next time!
Bye-bye.
Read More- Instagram's Reels, new TikTok like Feature now in Brazil!