Would it not be even better if we could just keep away from the negativity on the platform?
Not everything is in our hands though!
Right?
We can't control what others have to say.
However, we can definitely promote positivity so we see the less of its opposite.
And that's what exactly Instagram's NEW pinning comments feature facilitates us with.
Just a month ago, we wrote about how Instagram was testing to pin comments on the platform.
And now…
Instagram finally rolled it globally which enables its users to pin up to three comments on top of any of their Instagram posts.
Just select any of the comments that you like, and click on the pin icon to pin it (the first option on the top right corner of the screen).

Post-pinning, the pinned comments are going to be placed on the top any other comment which will ultimately curb the visibility of negative comments to a great extent.
When it's the first time to use this feature, Instagram would surface a pop-up notification (image below) notifying users about the functionality of the pinning feature.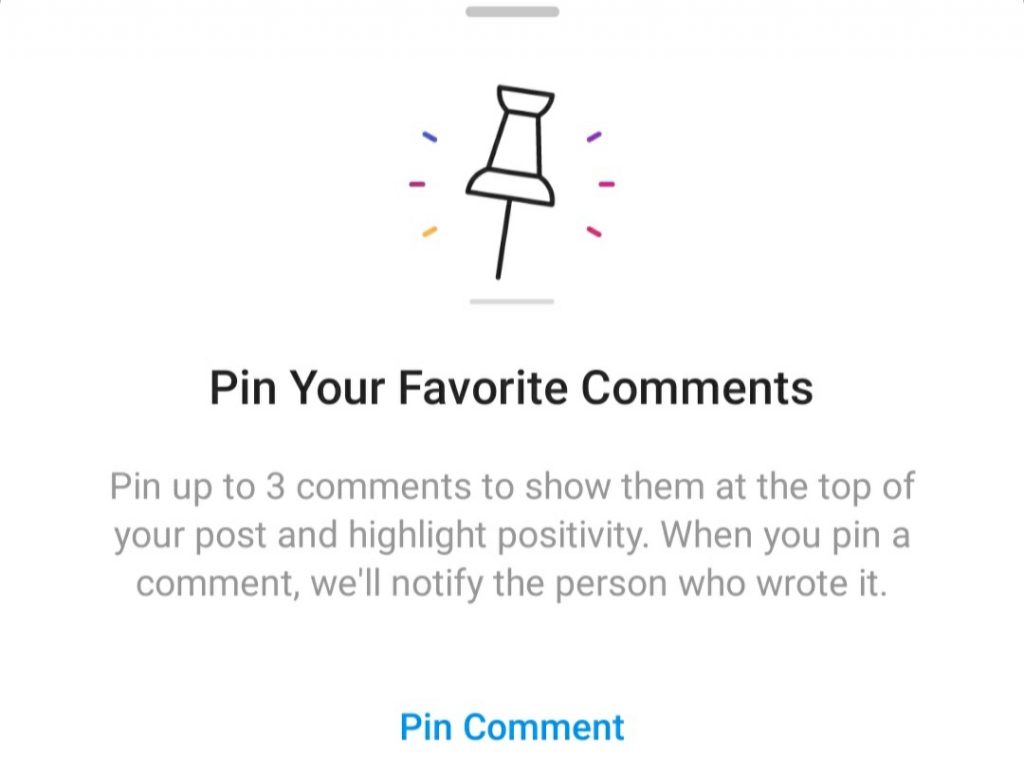 That said…
After you have pinned a comment on your post, Instagram would send a notification to the user who wrote it.
On one hand, it would promote users to comment positive remarks so the platform could be a better place for all.
While on the flip-side, it would put the negative commenters and bullies to consider the expected code of language before commenting any offensive remark.
How businesses and creators would use it?
The pinning feature could be a great opportunity for businesses and creators in taking their game to the next level both in terms of engagement and monetization.
Creators and businesses could pin comments from their followers and fans to make them feel special and ultimately scale the engagement and positivity on their post.
The feature additionally opened doors for monetization as many of the big creators and businesses could be paid to pin a particular comment as a part of an indirect promotion.
Interesting, right?
By the way, if you don't spot this feature yet, just go update your Instagram app and hopefully you find it then.
That said…
Do you know any other creative way this pinning feature could be used on the platform?
Please make sure you let me know in the comments down below!
And share this post if you liked it:)
P.S.- Subscribe to our newsletter so you never miss any update!
Till then?
See you next time!
Stay safe.
Bye-bye:)