Instagram Nametag is often claimed as a stolen feature that bore a huge resemblance with Snapchat's Snapcodes.
Scaling down the work of users to type in long usernames in the search bar, Instagram Nametags were wholeheartedly welcomed by users all around the world.
All YOU have to do is scan the 'Nametag' within the main app and you will be brought to a screen where YOU can either view or follow a particular profile.
That said…
Have you tried using them yet?
What???
No!!!
I completely understand your present situation as I have been in your shoes back a while.
And I bet after reading this article you would definitely want to use them.
Getting used to these updates and feature is not as easy as it looks, especially if you have a personal account.
So I thought why not shed some light on this topic and let you know more about using Instagram Nametags and how to customize them to your favour-
What are Instagram Nametags???
Instagram Nametag is a unique code assigned to a -particular user that other users can scan within the main app to view or follow a specific profile.
Voiding the typical way of typing in usernames in the search bar, Instagram Nametags were designed with the aim to take people to your profile where other Instagrammers could take one of the desired actions.
During the initial days of Instagram, it was quite tough for influencers to make people follow you just by telling them your username, especially if it was a long one.
I would say it was rather a challenge for people to spell the username correctly in the search bar.
And the situation even worsened if a username consisted of underscores, dots, abbreviations as people sometimes spelled double underscore (__) where they should have used three underscores (___). The 'dot' that was supposed to be after single underscore was spelled after two underscores i.e. 'xyz__.yz' instead of 'xyz_.yz'.
I know it's hard to understand all this…
But…
So was the case during initial days!
How to Find Instagram Nametags?
Before try finding Instagram Nametags on your Instagram app, make sure your application is up to date.
So firstly go update your Instagram application, and go to profile section of your Instagram app.
Click on the '≡' symbol on the profile menu.
This opens the sidebar menu which lets you access the Nametag Editor.
Now click on 'Nametag' option.
It opens a screen where you see a Nametag that was automatically set up for your account. But I highly recommend customizing it according to your brand, store, and event, as it increases the chances of others following you.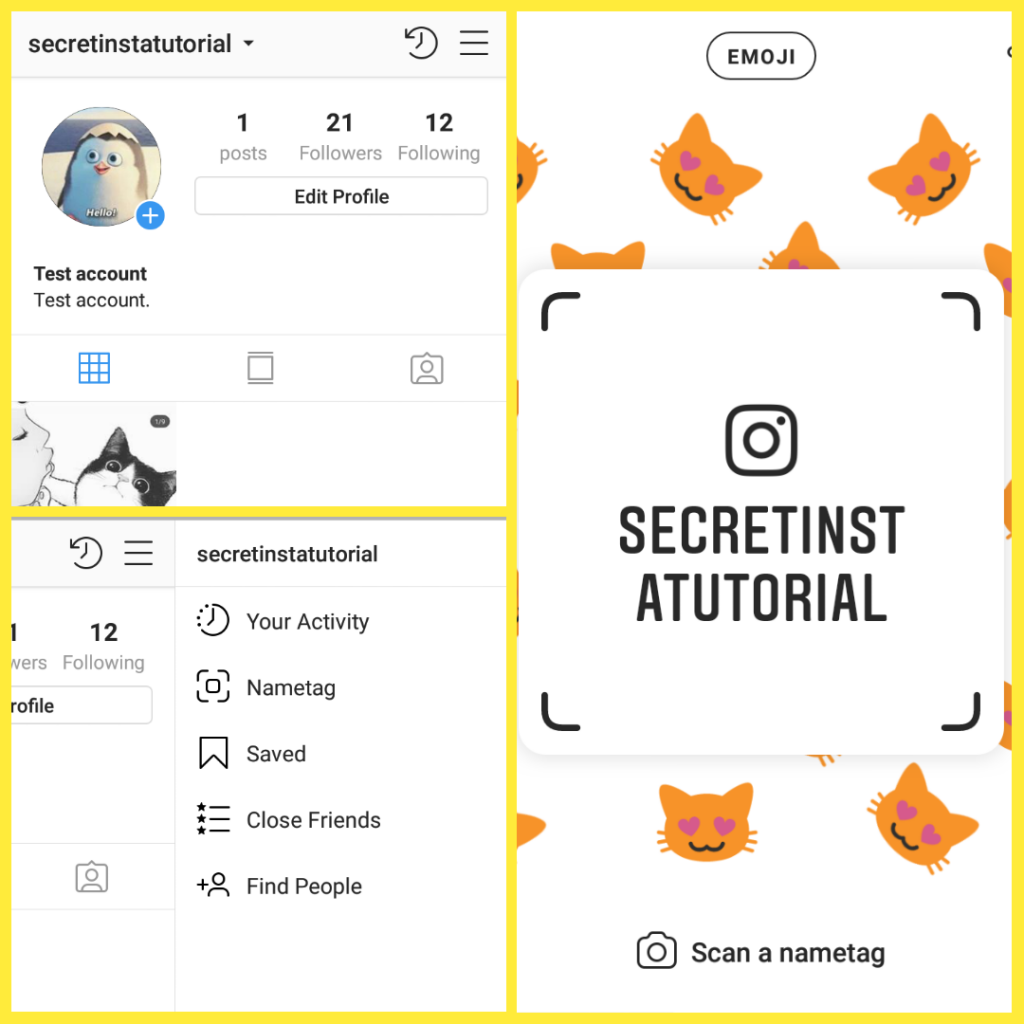 ---
Customizing Instagram Nametags
Instagram Nametag feature comes with a great depth of customization that usual QR code does not seem to offer.
There are basically three ways of customization your Nametags-
1: Color Nametags: When you open your Nametag for the very first time, it is the first option that you see your 'Nametags' automatically saved in. Choose from one of five color themes for the background of your Nametag by tapping on any free space on the screen. Switch between any of the five options or click 'COLOR' option on the top of the screen to go to next Nametags customization.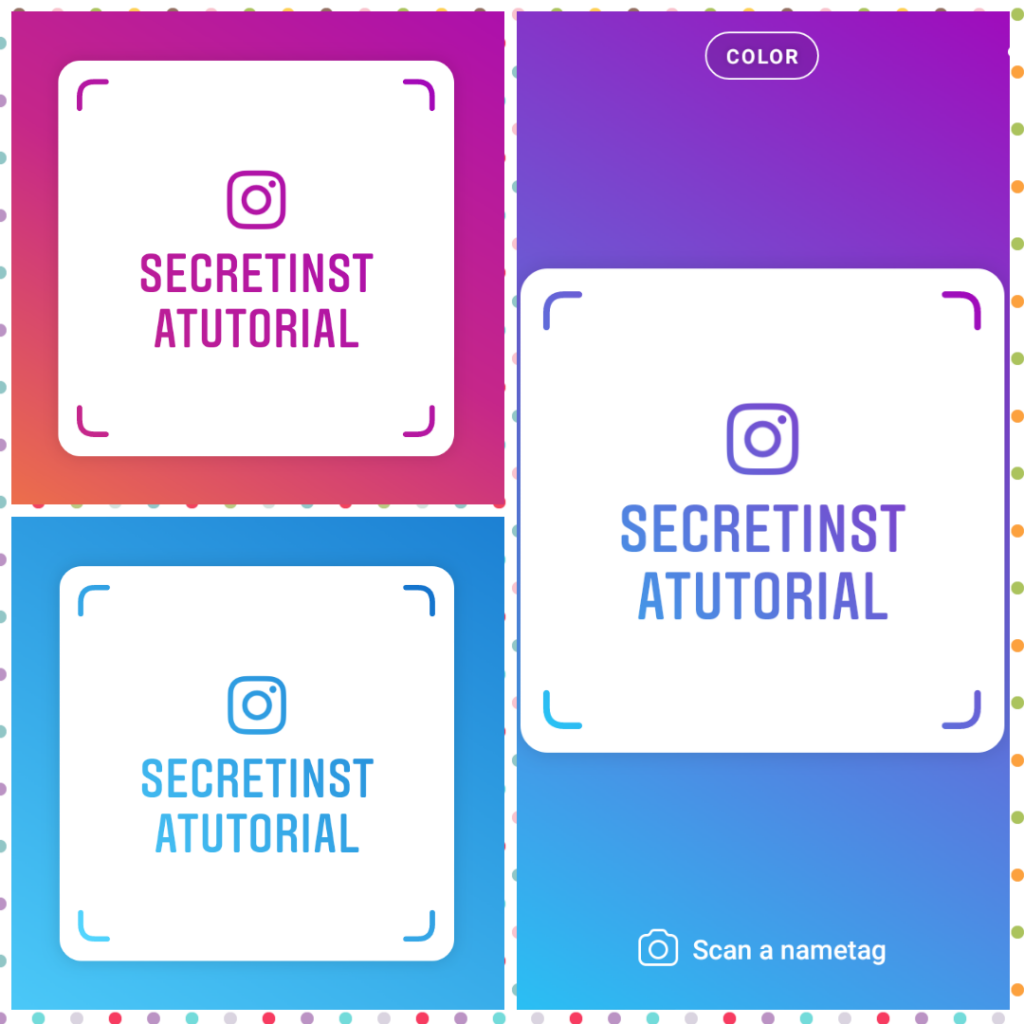 2: Emoji Nametags: Tap on the free space anywhere on the display and it opens up an emoji menu. Select any of the given emojis that you want to be placed on the background. In case you didn't like any, just click on 'EMOJI' option on top of the screen to go to next Nametags customization.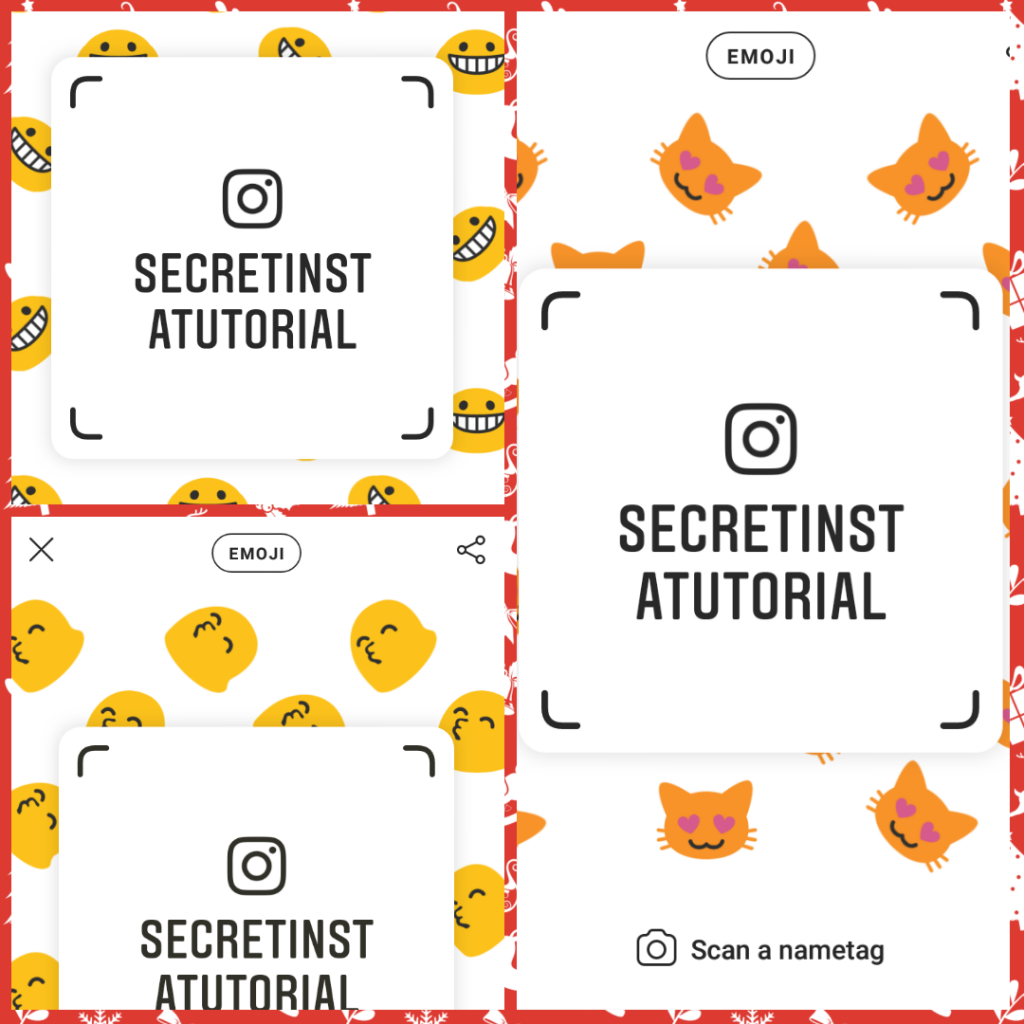 3: Selfie Nametags: This feature lets you put your selfie by replacing emojis in the background. Tap on the middle of the screen and switch between the given filters. After you are done selecting the filter, click your selfie and your Nametags is ready to be shared. It works the best for influencers, coaches, teachers ,etc.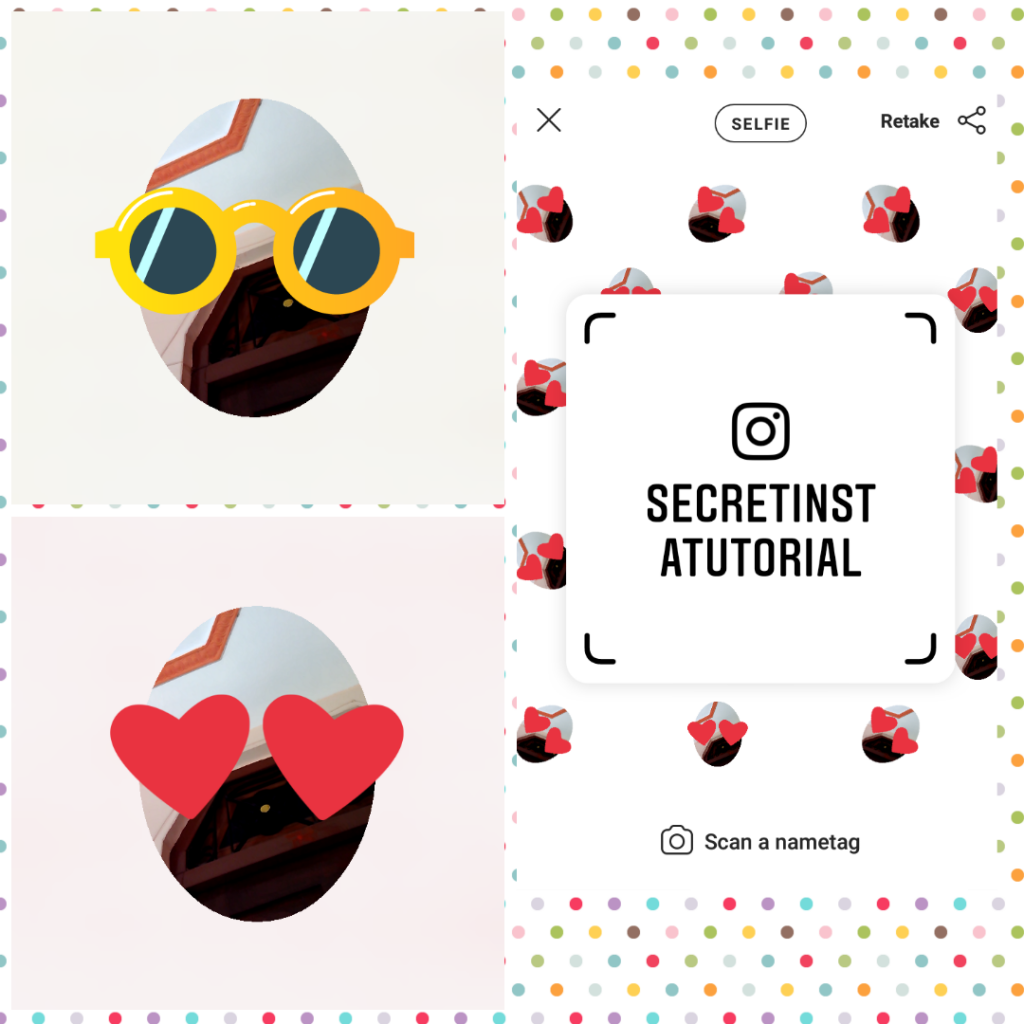 No matter which Nametags you use, when you sure about the background of your Nametag that you want to use, just click on the "X" option on the top left screen and Instagram saves that Nametag as your account's Nametag on it own.
Following which…
You can now share your Instagram Nametag by clicking the share icon on the top right corner on your various social media accounts or with friends through text messages and over other platforms like Twitter and WhatsApp.
---
How to use Instagram Nametags for maximum growth?
Tunnel for profit
If you are a brand or website that wants to gain followers by using Nametags strategy, make sure you give the users something in return when you ask them to follow.
It is best to promote your Nametag when you are running a campaign, contest or giveaway.
Encourage them to share your Nametag in their stories to enter the contest or to get the giveaway.
In the whole process, you will be tunneling the profit to your website or brand.
All you have to do is give away some products or E-book while in return you reach among a reasonable mass of users on Instagram.
Cross-promotion
Many of you might not be believing in the power of cross-promoting, but it definitely adds a reasonable number to your followers count.
Studies have shown that sharing your nametags on Twitter and Pinterest has not only scaled up the follower counts but also increased more conversion of sales so make sure you start cross-promoting if you wanna see some growth in your follower list.
Using your Instagram Nametag in Live Events
Live event is the number one pick according to me when it comes to growing your followers through Instagram Nametags.
If you are the one who gets to represent your brand or company in conferences, networking meetings, or trade shows, find a way to insert your brand's or company's Nametags in between those presentation slides so the attendees who want to know a more about your company can scan it and give you a follow.
Print it and Use it
If you are at an event where you are given a table or a booth or if you have a store (clothing, jewelry etc.), print your Instagram Nametag and place it in front on the table so the visitors who like your products and want to know more or connect with you can scan and follow.
---
How to scan and use an Instagram Nametag?
Finding via 'Profile Menu'
Go to your profile section and click '≡' icon on the top right corner of the screen.
From the options given in the sidebar, click Nametag option.
It will open a screen as seen in the picture third. Click "Scan a Nametag" at the bottom of the screen.
Scanning the Nametag, it shows two options- 'View Profile' or 'Follow'.
Select whichever you want and you are DONE!!!
From Search and Explore Section!
Screenshot the Instagram Nametag you want to scan.
Click on the search option from the second option at the bottom of the screen in the Instagram app.
It shows a screen similar to picture 1 of the given group of pictures.
Click on 'camera' icon on the top right corner on the search bar.
As highlighted in picture 2, click on the 'gallery' option on the very top left of the screen.
Select the screenshot you just took from the gallery.
Scanning the Nametag, it again shows the options where you can either view it or follow the account.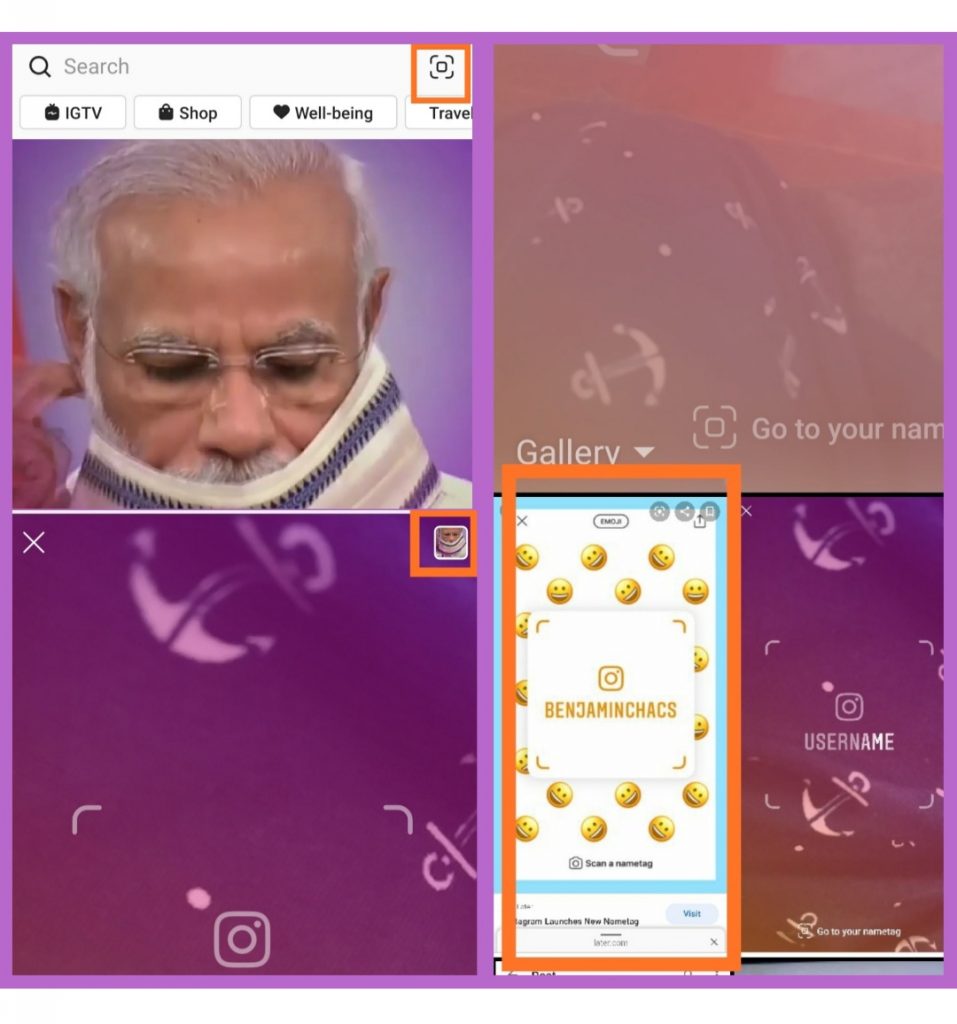 With that being said, I think it's about time you should start using these Nametags in personal and printed marketing materials to integrate your sale conversions and increase followers counts.
Don't shy away from using them wherever you can. Even if you sell physical products, place your printed Nametags on the packaging.
If you are a party manager or even an event manager, you can place it next to some decorative object (that is a center of attention) so others who liked your work may give you a follow and contact you for your services.
By the way, have you used Instagram Nametags yet?
How and where do you use it?
Lemme know in the comments section below about your views and suggestions and please share if you liked it.
P.S.- Subscribe to our newsletter if you want to read more post like this!
Till then?
See you next time!
Bye-bye.
Read More- 17 Actionable Tips to Get on Explore Page!!!