Posting on Instagram right from your PC is the topmost NEED of every second desktop user who likes to use the platform on a bigger screen.
And it is for this reason, just a few days back, Instagram rolled out this feature that brought a wave of happiness among all desktop users.
But wait…
It was not as good as it seems!
Reason- The rollout was merely for some of the selective Instagram accounts.
As a result…
Not many users enjoyed this partial update.
During the initial days, I heard it ONLY from my colleagues that they don't see the feature available.
However…
Yesterday when one of my users commented on that post that he also doesn't see it yet, it became my responsibility to cover this issue in today's article.
After all…
I do this all for YOU.
This is your blog!
And if something doesn't work for you, it's my responsibility to give you a good alternative.
So today…
We would talk about an extension named 'Byond' that was rolled out to solve this problem and make the Instagram experience on desktop top-notch.
With Byond installed, you don't need to follow the old-fashioned methods of posting from desktop one of which was by switching to developers tools to change user agents.
Neither you need to sign up for any additional services.
But do you know what's even better?
Byond is 100% free and doesn't require you to pay even a single penny.
The extension although a bit slow works as it claims, and is the perfect choice if you want to post on Instagram right from your PC.
With Byond, you can post pictures or videos on Instagram feed and stories with just a few clicks.
All you need to do is download the extension from the chrome store, and activate it.
The rest is all peace!
Enjoy all the features:)
By the way, if you are not sure how to use it, here are the steps that you need to follow to post any video/image on Instagram using this extension-
1- Click on the 'Purple Camera' icon on the top right corner of the screen.
2- Now click on the 'Select Image/Video' option on the surfaced screen, and then select the video/image from your gallery.
3- Enter the caption that you want to post.
4- Also, type the location that you want to mention.
5- Now click on 'Publish to Feed' to share the post on your feed, or click on 'Publish to Story' to share this image/video on your story.
6- And, that's it!
Your post is now live on Instagram:)
There exists one more feature that although is in the testing phase, but works quite well.
Lemme explain…
Let's say you like a post (ONLY IMAGE) that you want to repost on your profile without downloading and uploading it again, Byond can help you with this.
With Byond, you can repost any picture on Instagram with just a single click.
Here is all you need to do-
1- Click on the 'BYOND' icon on the top LEFT corner of the picture.
2- And modify as per what you prefer using the options given.
3- You can change the filter, adjust brightness, add fonts, and much more.
4- After you are done customizing, click on 'continue'.
5- Tag users by clicking on the picture, and mention them.
6- Now enter the caption, location, hashtags whatever you like, and click 'publish'.
7- If you click on 'publish to feed' the reposted media will be shared on your feed, while on the other hand if you select the other, the reposted content is shared on your story.
And, it's that simple!
No further steps needed.
Awesome, right?
Not only this…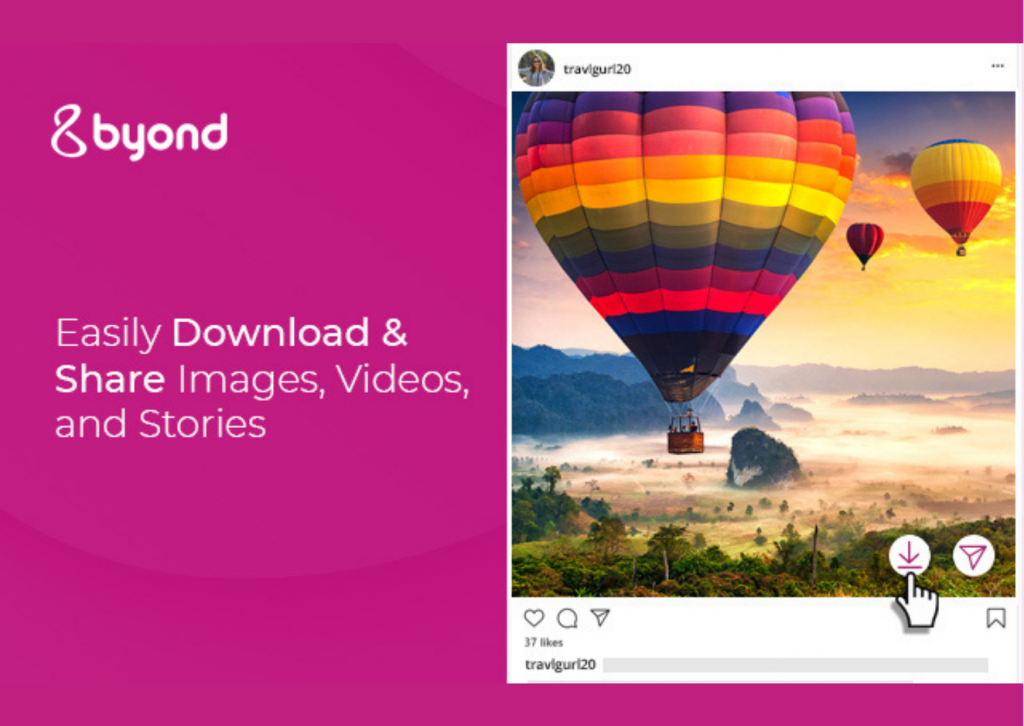 Users also can download the picture/video using the download button that is given on the bottom right corner of every post.
Just click on the download button and the media would automatically start downloading in the background.
However, if the post that you clicked to download is a carousel, Byond asks you if you want to download just the current image/video or the entire carousel which seriously caught my eye.
But wait…
That's not the end!
Byond also notifies you of the posts that are posted on the platform.
Isn't it amazing?
The extension according to me is an all-in-one tool for users who want the mobile experience of Instagram right on their Desktop.
Now let's cover…
Queries that you might have regarding BYOND?
Question- Is it really free?
Answer– Yes! Byond is 100% legit and FREE.
Question- Could it get my account blocked?
Answer- I have heard some good reviews about it so if you are not robust with posting, it should not cause any issue.
Question- Is anything that I need to worry about regarding policy limitations?
Answer- Not really! In my view, if you are using it just for your personal account, there is nothing to worry about. You can read more here- Privacy Policy!
What could be better?
The only thing that could sometimes irritate you is the time that it takes during widget load. That aside, everything works quite well.
Moreover, as it's all free, these minor issues could be surely ignored.
By the way, how do YOU post on Instagram currently?
Have you heard of this extension before?
Let me know in the comments down below if you have heard of this extension before.
Also if you liked this article, feel free to share it with your friends.
Till then?
See you next time!
And?
Bye-bye.
P.S.- Subscribe to our newsletter so you never miss any updates.