Instagram always has an eye on accounts that have some suspicious activity so it could hunt down on such profiles that are ruining the platforms' engagement.
And it is for this reason it has rolled out various security checks to safeguard its user's privacy and flag the spammy ones.
Be it verifying it via a security code, or user's cell number, there have already been many tools that Instagram made use of to counter such problems.
However, when there are solutions to a problem, there also exist bypasses which are nothing new in this Internet era.
And it is for this reason that even a 6th grader is able to bypass the security check via fake email, or cell numbers.
While these approaches when didn't deliver the expected results to hunt down on spammy accounts, Instagram came up with a new technology that was new to social platforms.
Can you guess?
You are right, my friend!
It's the 'Instagram's Video Selfie Verification'!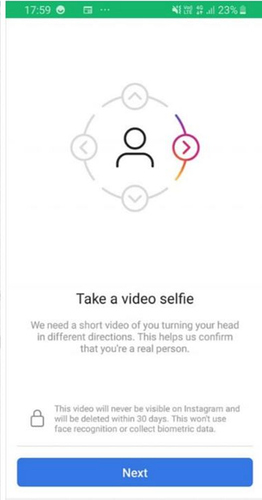 Although the feature was rolled out in August last year, the effect seems to have occurred just a month ago when a number of accounts were hit by this shield.
Almost hundreds and thousands of accounts were affected including mine so you can rest assured that I know what mistake did I do, and what you should not.
Since I keep on hunting for more information regarding Instagram, I test a lot.
And when I say 'a lot', I seriously mean 'a lot'.
Every service or site or app that I see a user using, intrigues me to dig deeper into the functionality.
And that's where I made mistake.
I recently downloaded an app that showed the followers who unfollowed me within a week and also showed the Instagram users who didn't follow me back.
Furthermore, there also existed an option to remove all of them via a single click.
But wait…
It turned out to be a disaster for me.
Although I don't use my personal account for testing purposes rather I prefer the fake ones, I seriously thought that I permanently lost my account.
As per the current guidelines and rules of the platform, Instagram doesn't want its users to use any third-party application.
And since I logged in via a third-party application, and unfollowed many users who didn't follow me back, it flagged my account into suspicion zone.
The next day, when I logged into my account, Instagram asked me to verify my account via a video selfie.
Since I had no bad intentions (such as spamming) and I used it just for testing purposes, I proceeded further to the verification part and uploaded my video selfie.
Just followed the instructions which the platform mentioned and it was all very smooth to record.
However…
When I clicked on the upload button to upload my video selfie, the platform showed an error.
I did it again…
And it was all same!
I searched online and I bumped into several videos that claimed that I would get back my account with their supernatural trick (that even NASA didn't know).
All fake though!
None of those tricks in those videos worked.
I logged out and logged in again.
I cleared the app's cache.
I even rebooted my device.
But as I said, all in vain!
In frustration, I deleted my app and reinstalled the main app from the app store.
I did it again!
And…
Ta-da!
It worked!
I got my account after 3 hours and 56 minutes without any issue.
It all worked fine, with no restrictions, no issues.
So you may want to ask now-
How long would it take for me (YOU) to get back my account?
You see…
It depends on how serious your issue is and why the ban was imposed.
If your account is flagged under suspicious activity and has a bad record, chances are you might not get it back even up to a week or more.
And if you are new or it's the first mistake like me, you would get back your account within few hours for sure.
Don't stress much, just uninstall the entire app and install it again and keep trying two to three times a day.
Note- If you are using the lite version of the app, the issue won't be solved. You would need to install the main app to complete the verification process.
Moreover, there is no need to worry as the video that Instagram receives from you gets deleted from the app after the verification completes within 30 days.
So you have nothing to worry, your video won't be saved anywhere, neither it will be shared with any third-party apps or services.
And just for your knowledge please keep away from what I am mentioning below if you want to keep your accounts safe because you would face serious issues if you-
1- Use a badly programmed bot such as FollowingLike (you will get caught for sure!)
2- Keep logging into any third-party applications. (if it's once, it's fine, but not every time).
3- Mass 'Unfollowing and Following'.
4- Posting too often (more than 5-7 posts a day is a big 'NO', except meme pages)
5- 'Commenting and Liking' every post.
Stay away from these five, and you are good to go then:)
So…
That is it for today!
Share this post if you found it helpful and let me your queries in the comments down below if you have any.
Till then?
See you next time!
Bye-bye.
Also…
P.S.- Please subscribe to our newsletter so you never miss any updates.