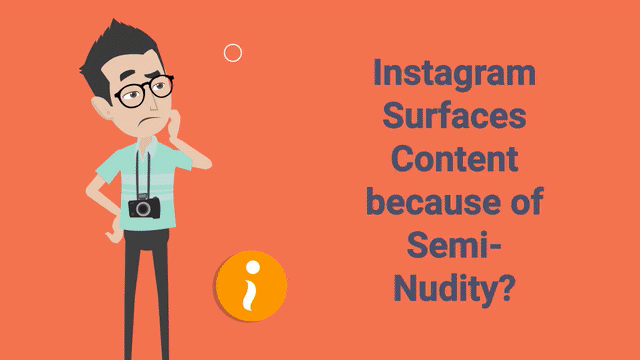 Do you follow 'Instagram Comms' on Twitter?
Well…
The post today is not to manipulate you to follow it which is an account run by their PR team.
But a tweet that this verified handle tweeted just a few weeks ago has been a trigger of excitement for many.
And also eyed upon by a number of social agencies and tech freaks.
Me…
Included!
The company tweeted the whole information in parts among which the first stated-
"There's been a recent study that suggests we boost content specifically because it contains semi-nudity. This is not true. We surface posts based on interests, timeliness of posts, and other factors to help people discover content most relevant to them."
Although there was no citation of the source that conducted such studies, it would have been viral somewhere in feeds that made Instagram's PR team clear the whole issue.
To that end, the source although unstated (on their tweet), resonated with the feeling of many users who are already on the platform.
Not me though!
I have been on the platform for more than 4 years now!
And frankly speaking, I don't think it's true.
Although I won't ignore the fact that photos of certain types (mostly adult) get super viral because the engagement is always on the upper side as compared to the normal ones.
And it is for this reason when a user joins the platform, he often notices such posts on their explore section as Instagram doesn't know what to cater and what their interests are.
So it tops up the posts that are viral so as to check whether the user would be interested in such posts.
Provided the user doesn't engage much with such type of content and starts searching for and following accounts related to science, sports, or health, the company would then update its database and surface posts in the niche which you engaged with in the past.
The company clarified this in its next tweet stating-
"The study looked at an extremely small sample size, which likely surfaced the type of content they were researching- the more you engage with certain types of posts, the more likely we are to show you similar posts."
So as you can see, Instagram keeps a record of what you like and whatnot.
Assuming when you like a post related to sports or tech, it keeps that in its database and surfaces the posts accordingly based on your past analytics.
"This research is flawed in a number of ways and shows a misunderstanding of how Instagram works. We will be releasing more information about what posts we do and don't recommend in the coming weeks."– PR team tweeted further in the end.
And this…
The last tweet!!!
It is exactly what has been in the air for quite a while now.
Although it should have been cleared by now by an additional tweet explaining it all.
But the fact that it could reveal the platform algorithm to the global community couldn't be ignored.
I waiting for almost three weeks now and still, there is no update about that last tweet.
Maybe the company would never do that!
Or even if they did, I am pretty sure it would some basic rules it already shared with the Instagram community.
Nonetheless, we would still be eying upon that tweet Instagram.
Bring it on:)
By the way, what do you think?
Do you Instagram suggests content just because it has semi-nudity?
Let me know your views in the comments down below, and please do share if you liked this article.
P.S.- Subscribe to our newsletter so you never miss any update.
Till then?
Stay safe!
See you next time!
And?
Bye-bye.