Testing happens to be a crucial part of every business!
Juicing down the end products of a certain experiment, initial testing has turned out as a go-to procedure to measure what would actually work out.
Hence…it ultimately saves loads of time and money that could have gone down the drain!
And frankly speaking, Instagram is no different!
From major changes like removing likes count from user's post, bringing in functionality to add videos longer than 60 seconds to even smaller alterations like a new filter, sharing option etc., Instagram always has an strong eye for the needs and tastes its users have.
This time, Instagram has decided to eliminate the IGTV button that users used to notice earlier at the top right corner of the interface beside the 'direct' option.
Just in case you still notice the button in your Instagram app, just go update your app, and it will be gone.
For those who don't know much about IGTV-
IGTV is an Instagram's feature app that enables Instagram users to upload videos of length up to 10 minutes and use the platform to the best of its potential.
P.S.- In case if a user has a verified Instagram account, they can even upload clips up to an hour.
However…
The alteration doesn't mean that the IGTV feature or the app would vanish from the platform. It's just that the IGTV icon the top right corner of the screen would no longer be available in your Instagram app.
Instagram users could find the IGTV content like usual on their Instagram feeds where they can watch the full IGTV video after clicking "Keep Watching" on the provided snippet (see in the picture below).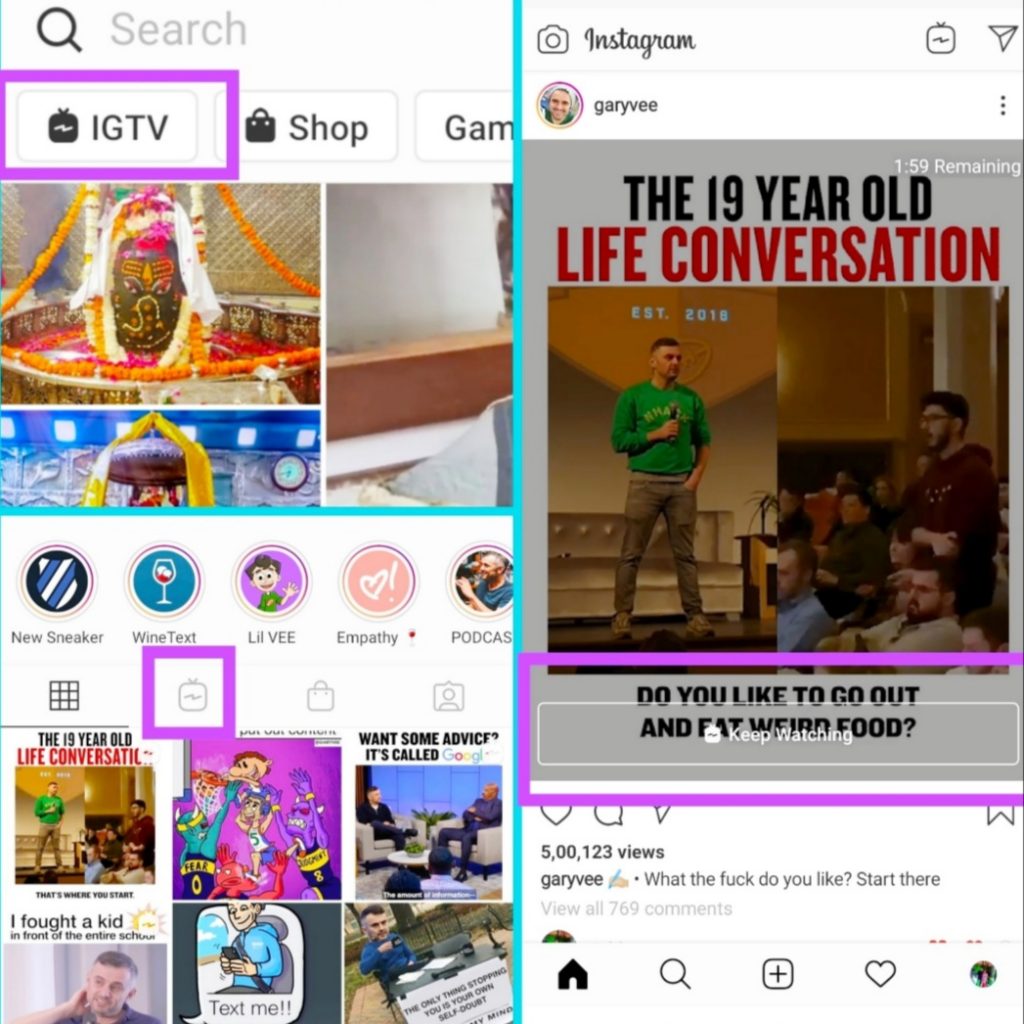 Alternatively, they can find the IGTV option in the explore section, or user's profile section (as in the picture above).
To that end…
When asked about why it brought out the changes, a spokesperson from Instagram's parent company Facebook explains TechCrunch–
"As we've continued to work on making it easier for people to create and discover IGTV content, we've learned that most people are finding IGTV content through previews in Feed, the IGTV channel in Explore, creators' profiles and the standalone app. Very few are clicking into the IGTV icon in the top right corner of the home screen in the Instagram app."
Later, the company clarified that it wants to keep its platform as simple as possible on the basis of its learning that it received from its online community.
Personally, I think all they did was pretty much needed because not only did the old layout complexes the whole thing, but also serves no purpose.
Moreover, by removing the icon from the main interface would ease the working of engineers to focus on various other important aspects.
It's indeed a fact that most of the people prefer watching IGTV through feeds using 'keep watching' snippet, and so do I.
By the way, how do you watch IGTV?
Through feeds or profile?
Or IGTV app?
Let me know in the comments section below about your views or any queries.
And please do share if you liked it!
P.S.- If you want to read more posts like this, please subscribe to our newsletter so you never miss any update.
Till then?
See you next time!
Bye-bye.