Launched this week as 'Guides' on Instagram, the new feature was rolled as a spot where users could find recommendations, tips, and other useful content from their favorite creators, publishers, and organizations on Instagram.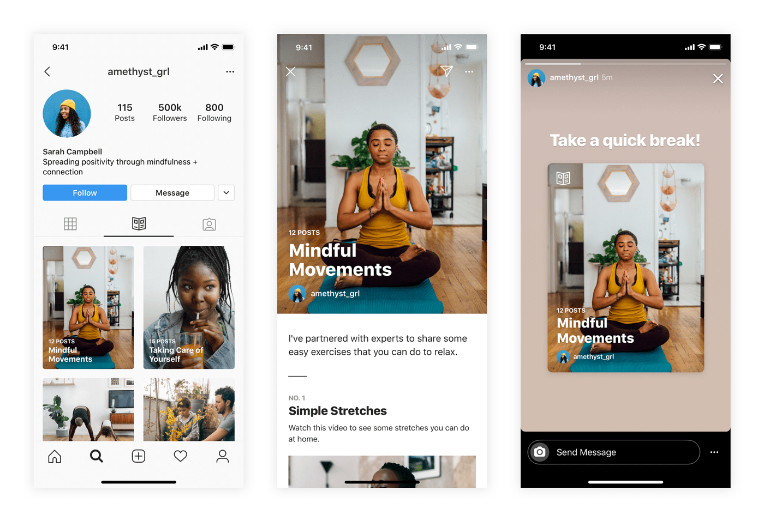 So…
What exactly are Instagram "Guides"?
Guides are just like what I would say a step by step process of an activity or recommendations. When viewing a guide, users would notice a collection of posts and videos (often from different people) that influencers or organizations have curated with a heading explained with a few lines of text.
If I have to explain, I would say it's pretty much like a live commentary with pictures and videos. 
Pretty impressive…
Indeed!!!
Instagram said- "We know many people are struggling due to the COVID-19 pandemic, so we are first focusing Guides on wellness content. We'll enable creators to connect with expert organizations to share resources during this time, including tips on how to look after your well-being, maintaining connection with others, or managing anxiety or grief."
As of now, only a few selected number of wellness creators can create their own guides.
However, Instagram may roll it as a public feature down the lane.
Some of the accounts that are approved as of now are as follow –@afspnational, @heads_together, @vitaalere, @klicksafe, @headspace_aus, @deepikapadukone, @sudahdong, and @eenfance.
Users can visit any of the above profiles and check out the respective guides from each account.
The guide feature isn't available in the older versions of the app, so you would need to update your Instagram application to view it on your mobile phone.
Although Instagram "Guides" could currently be accessed via the profile section only, Instagram is thinking of launching it in the Explore section as well.
Furthermore…
Users could additionally share the guide in their stories section or DMs by clicking on the "arrow" button on the top right corner of the screen.
That said…
'Guides' are definitely going to be one of the most used features seeing the impact it has on the followers. I would say it is pretty much like a freebie that websites offer to collect user emails. 
Although I know Instagram is completely different from personal blogs and websites; the same funnel strategy of blogs could be implemented to get leverage on Instagram too.
One only needs to be creative enough to do that!
What do you think?
By the way…
Have you checked out any of the guides yet?
Let me know your views in the comments section below.
And please do share this post if you liked it!
P.S.- Subscribe to our newsletter so you never miss any update!
Till then?
See you next time!
Bye-bye!
Read More- 17 Actionable Tips to Get on Explore Page!