As more people are joining the bandwagon of this photo-sharing platform, it has also given birth to a new situation that needs to be taken care of.
You know who I am referring to?
You got me right!
It's the young people who are joining the platform on a massive scale.
Although Instagram already did a lot to address this issue, it has recently announced updates on new features and resources as part of its ongoing efforts to keep its youngest community members safe.
Instagram wants parents to have the information to help their kids have a positive and safe environment on the platform. It is for this reason, the company has collaborated with The Child Mind Institute and ConnectSafely to publish a new parents guide which includes the latest safety tools and privacy settings, and also a list of tips and conversation starters to help parents navigate discussions with their teens about their online presence.
The updated Guide is currently launched with expert partners in the US and also some other countries which include Argentina, Brazil, India, Indonesia, Japan, Mexico, and Singapore. Instagram also made it clear that pretty soon this updated guide would roll in several other countries.
Instagram's new guide would also complement its existing Parents' Guides (which the company developed in partnership with local safety experts) to provides support for parents in the UK, France, Italy, Germany, and Spain.
Since Instagram requires a user to be at least 13 years of age to use the platform, user's age has been a number one cause of worry since the platform rolled out.
And I am saying this because although some people are honest, there a bunch of teens who put their age wrong and use the platform.
To tackle this issue, Instagram rolled out a set of new functions that would make a big difference and surely contribute to the cause.
The number one feature that it rolled it right away is the restriction for DMs it has put for teens who want to message adults.
It announced-
"To protect teens from unwanted contact from adults, we're introducing a new feature that prevents adults from sending messages to people under 18 who don't follow them. For example, when an adult tries to message a teen who doesn't follow them, they receive a notification that DM'ing them isn't an option. This feature relies on our work to predict peoples' ages using machine learning technology, and the age people give us when they sign up. As we move to end-to-end encryption, we're investing in features that protect the privacy and keep people safe without accessing the content of DMs."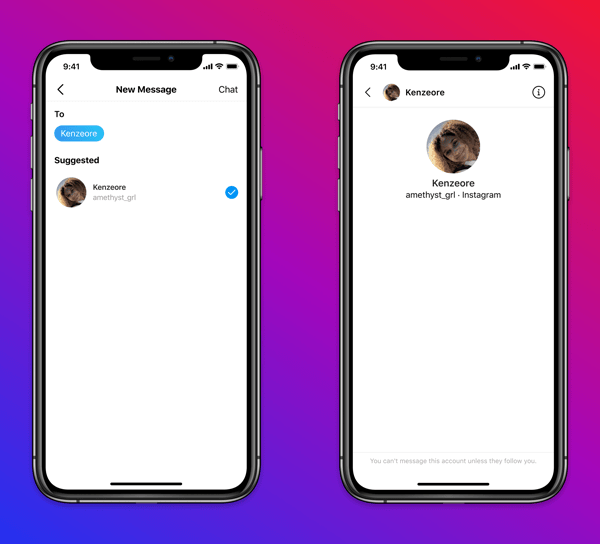 That said…
Instagram also added-
"In addition to preventing conversations between adults and teens who don't follow one another, we'll start using prompts — or safety notices — to encourage teens to be cautious in conversations with adults they're already connected to. Safety notices in DMs will notify young people when an adult who has been exhibiting potentially suspicious behavior is interacting with them in DMs. For example, if an adult is sending a large amount of friend or message requests to people under 18, we'll use this tool to alert the recipients within their DMs and give them an option to end the conversation, or block, report, or restrict the adult. People will start seeing these in some countries this month, and we hope to have them available everywhere soon."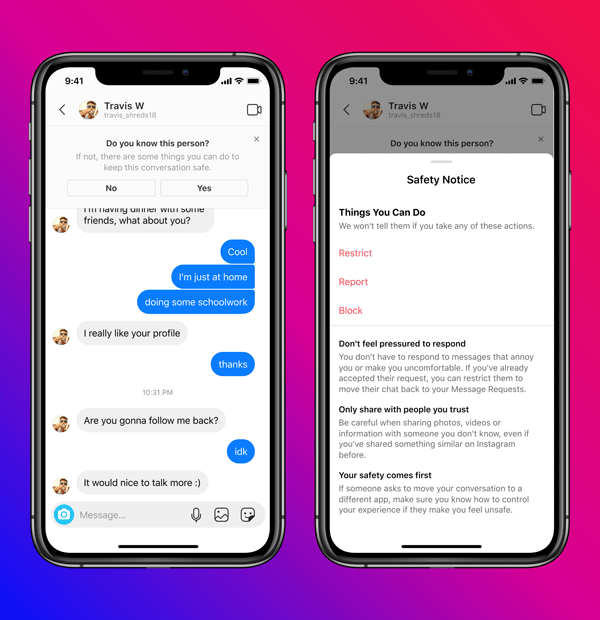 For future updates, the company is thinking of finding new ways to make it more difficult for adults who have a streak of suspicious behavior interacting with teens which might include certain changes such as removing teen accounts in the 'Suggested for You' list in adult accounts.
To add more, it could also prevent suspicious adults accounts from discovering content that teens post even though it has gone viral in their Explore or Reels section.
The official Instagram page further cleared its intentions about hiding comments from teens in the public posts to such adult accounts.
Initially, as you know, when a user signed up for a new account, it remained as a public profile until a user turns it private in the setting section.
However, Instagram would now give an option to teens while they sign up so they can opt for a private profile if they want.
Instagram also considered the young people's desire to be known more which could be achieved of course only when they keep their account public; however, prioritizing the safety in mind the company mentioned that it would send notifications to teen accounts that are public about the benefits of keeping their profile private so they can choose what's right for them.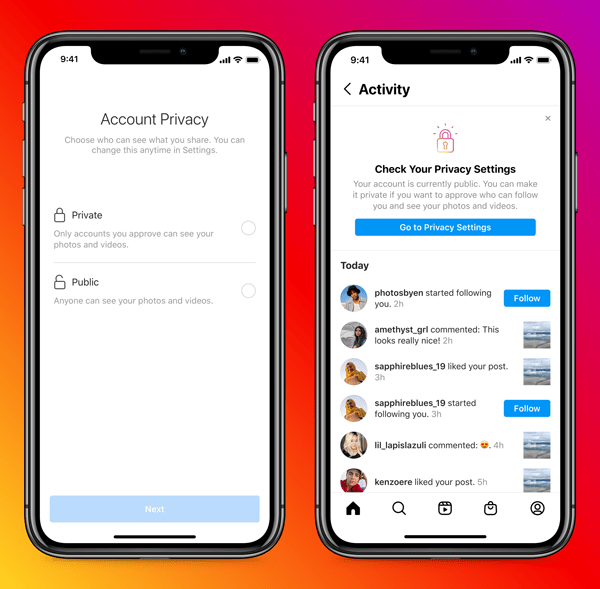 Will Gardner, the CEO of Childnet International applauded the platform saying-
"The introduction of Instagram's teenage privacy settings is a welcome change to the platform. We know that some young people make the conscious choice to have public profiles, and this new update allows young people to enter a more controlled environment and requires there to be a conscious decision before entering a more public environment, which in itself provides an important educational moment to help prepare for this step. This change is for new users, and we need to work to address this question of user awareness of privacy choices on existing accounts."
The ongoing efforts have indeed shown Instagram's genuine concerns about the issue which pretty sure would contribute to limiting the interactions on the platform that happen between teens and adults.
By the way, what do you think?
Let me know what you think of these changes in the comments down below.
And please do share this article with someone who would find it useful.
Till then?
See you next time!
Bye-bye.
P.S.- Subscribe to our newsletter so you never miss any updates.