NEW USER JOINS…
Goes to the search bar.
…???
…???
And…
Blank!!!
SCENE ENDS:(
However…
Not anymore!
Instagram rolled out new modifications in its search section that would eliminate scenarios as such.
The platform is leaving no stone unturned to live up to its statement i.e. "Bringing you closer to the people and things you love."
As more and more users are joining the platform's bandwagon, making it easier for everyone to find things they love is all on the company's part.
And…
It is for this reason…
The updated Instagram app would show different suggestions as soon as you tap on the search bar to search for something.
Now before you get confused, or assume something wrong, let me explain what I meant by that.
Showing different suggestions doesn't mean it would show pop-ups or something of that kind.
What I mean is…
You would see options rotating on the search tray to make it easier for you to navigate the platform.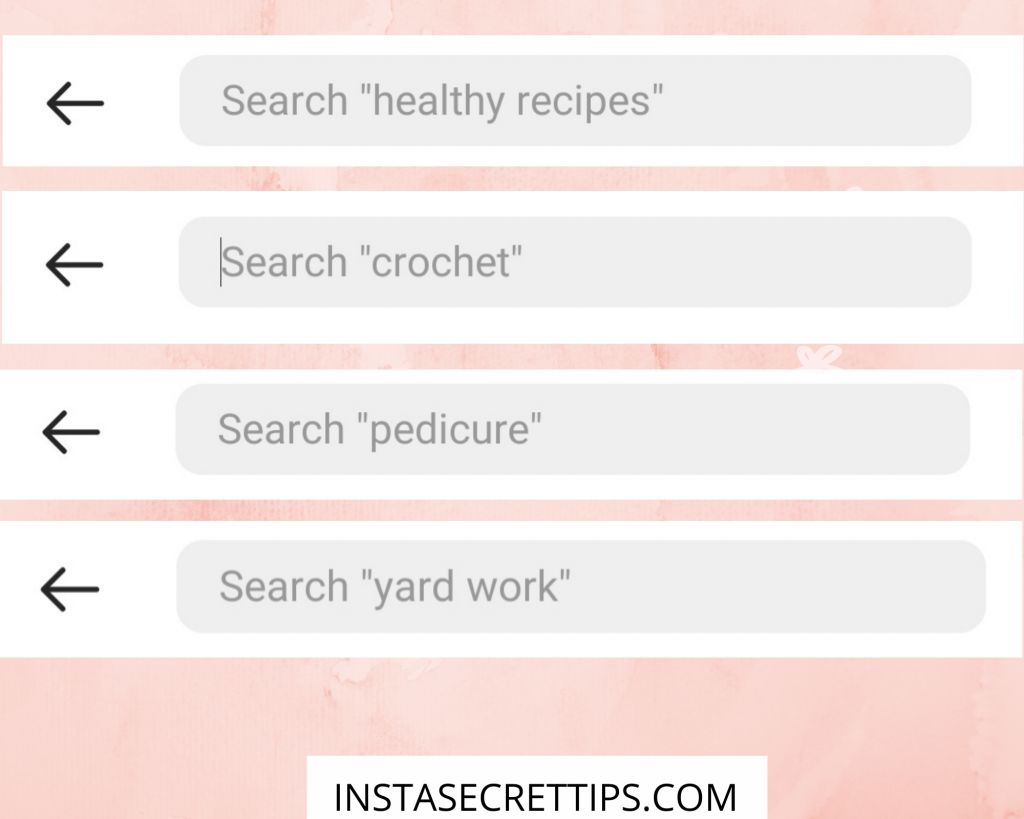 Something like the image above!
Although it doesn't add much for the existing experienced users, the feature surely comes in handy for the users who are new to the platform.
Not only this, but the modified search section of Instagram also shows various sub-topics related to a particular word.
Initially…
Instagram only showed the hashtags and top accounts when YOU searched for a key term.
However, after the update, YOU would see various sub-topics related to your search query along with the initial data.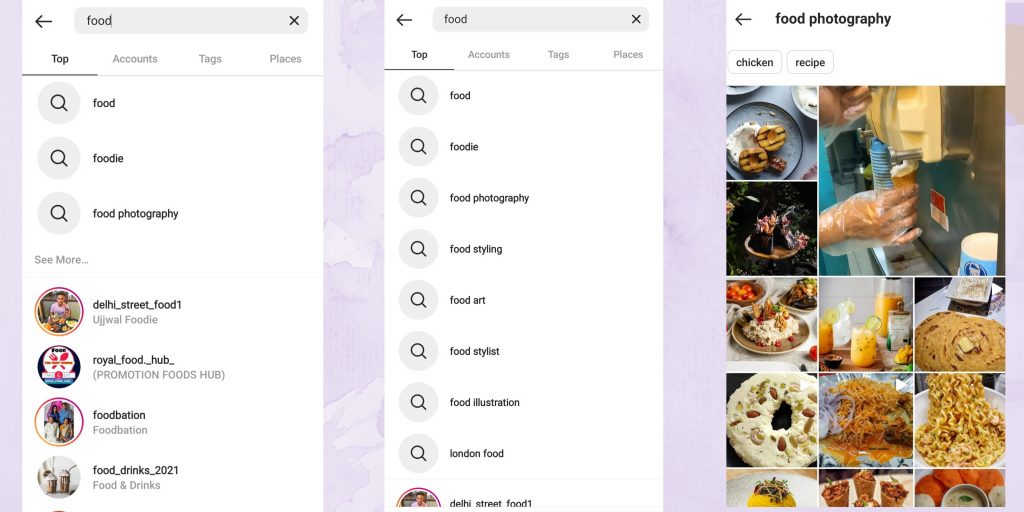 Which means…
When you search for a keyword i.e. 'food' or 'fitness', Instagram shows you a list of different related sub-topics (food recipe, food illustrations, and so on) along with the top accounts and hashtags for that particular term.
That said…
As you can see in the picture above, when I searched for the term 'food', Instagram showed me various suggestions.
Moreover, as soon as I clicked on it, Instagram catered different top-performing posts under that sub-topic that they think I might like.
The rollout although is available for global Instagram users (MOBILE ONLY), there could be few exceptions as well.
Also, make sure you update your app to the latest version if you don't see it yet.
The feature would not only make it easier for new users to navigate through the platform, but also it would improve the overall Instagram experience for older users as well.
As per my personal experience, the posts that Instagram caters under these sub-topics are way better than their explore page or even any particular account.
You get the best out of the best!
And that makes it an even more preferable place for all die-hard Instagram lovers.
By the way…
Have you noticed this change until now?
What according to you could have been better?
Drop your views in the comments down below, or queries if you have any!
And please share this article if you liked it!
Till then?
See you next time!
And?
Bye-bye!
P.S.- Subscribe to our newsletter so you never miss any updates.